Irish Supplier Focus and Discount Promo – IQ Design
Purchase.ie always tries to work with Irish suppliers when possible as long as we can provide our customers with quality products at good value for money.
In order to provide a comprehensive product range we also have to work with UK companies and suppliers from further afield also though.
However we work with over 20 Irish based suppliers. From large direct manufacturing companies like Exitex in Co Louth who specialise in draught excluders to smaller Irish manufacturing enterprises that produce products like the Binstrap, the Bintrasher, Obeo Food Waste Boxes and Seaweed Treatment Spray.
One Irish supplier that we started to work with 3 years ago and is now establishing itself as one of our leading suppliers is a Dublin based company called IQ Design. IQ are principally involved in the design and development of energy saving products.
Below is a comprehensive list of the IQ Design product range available through Purchase.ie.
Before November 7th you can avail of a 12.5% discount on any of the IQ Design range by inserting the Discount Coupon Code Iqdesign125 at checkout.
Alternatively call us on 066 7136486 and mention the IQ design promo and we will process your discounted order over the phone with you.
Click on links belw to view full product details.
Stove fan and Stove Care Products
1: Smartfans (Four Models)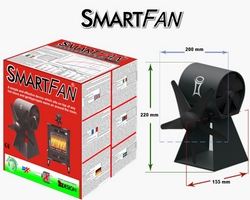 2: Smartfan Accessories (Repair Kits and Replacement Blades)
3:Glass Fibre Rope (Four Sizes)
7: Heat Resistant Spray Paint (Black)
8: Heat Resistant Brush On Paint (Black)
Smart Electronic Products
10: SmartTemp – Infrared Thermometer
11: Smartsense Carbon Monoxide Alarm
12: SmartBurn Firewood Moisture Meter
Chimney Cowls (All Four Colour Finishes) & Chimney Care
13: Smartcap – Chimney Rain Cap with Integral Bird Screen
14: Smartstorm – Deigned to Prevent Bird Entry and Rain Ingress
15: Smartdraught – Wind Driven Rotating Chimney Cowl
16: Smartvent – Brewer Aerodyne Chimney Cowl
17: Smart H Cowl – Designed to Increase Updraught
18: Smart OH Cowl – Designed to Increase Updraught
19: Smart Capping Cowl – Chimney Terminal Cover (Two Sizes)
20: Smartsweep – Rotary Chimney Cleaning Kit
Loft Insulation and General Insulation Products
21: Loft Lifters
23: Thermflect Reflective Foil
Energy Saving Lighting
25: Thermlight – Candle Powered Super Bright Multi Purpose LED Light