Therm Light Candle Powered Light
Therm Light is a innovative and new unique lighting product which is powered by the heat generated from a small lighted candle (tea light) .
The heat from the tea light converts into electric energy; thereby powering an array of 18 bright white LED's.
No need for electric power, no need for replacement batteries the Thermlight is perfect as a reading light, a down light or a mood light. Also great for outdoor activities and when camping or fishing.
The Thermlight pack includes 9 tea lights so it can be used straight away.
It is made from corrosion proof materials and comes with a 1 year manufacturers guarantee but the LED's will typically last up to 20,000 hours each.
When lighting the output is the equalavent of having 20 tea lights lighting at the same time.
See Thermlight Video
How the Thermlight Works?
The conversion of energy is achieved through the use of the Thermal Power Generator which is located inside the main body of the thermlight.
It features Thermal Electric Plates; also known as "Peltier" Modules, which
when heated on one side and cooled on the other, generate a small electrical voltage. The thermal power generator is made up a specially designed aluminium block featuring cooling "fins" with two Peltier Modules affixed to it in a manner that enhances the concentration of both heat and cool.
Using the Thermlight
Open the candle holder which is located at the base by pulling it towards you
The Thermlight is hinged and will therefore open like a gate. It features a well into which a lited Tea Light is placed. Close it ensuring it locates into the place. You will feel it snapping into the fully closed position.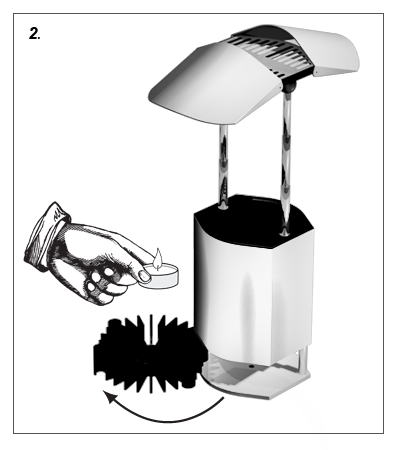 Gently pull up the "winged" top section which is attached to the body by means of two telescopic rods. Take care not to over stretch them. Open the "wings" which act as light deflectors. The complete section may be pivoted in either direction.
After placing the lighted candle into the candle holder, please let it burn for about 30 seconds before closing. This will ensure that the Thermal Power generator does not get "sooted up".
The LED lamp will start to illuminate after about 60 seconds of the lighted candle being placed inside.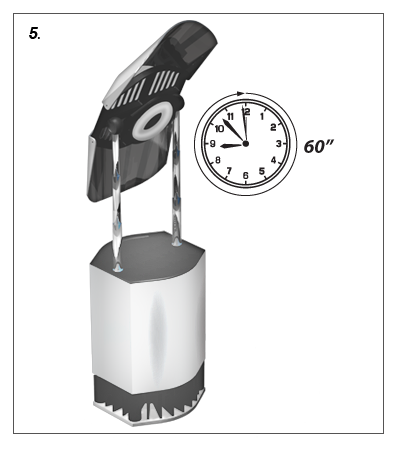 ThermLight is now ready for use and should be placed in a convenient location. The angle at which the winged top section is positioned determines to a large extent the intensity and area of illumination.
A typical Tea Light will burn for about 4 hours providing a highly economic source of light in both an indoor or outdoor setting.
Thermlight Specifications
Weight 1.5kg
Height (Fully Closed) 195mm
Width & Depth 120mm
Normal Height 315mm
Max Height (Tilted) 400mm