Smartfan Heat Powered Stove Fan
The heat produced from a stove immediately rises to the ceiling instead of moving horizontally across and heating the whole room.
The smartfan an Irish designed product from IQ design comes in four different models to suit either wood or other burning fuel stoves, gas stoves or soapstoves.
It spreads the heat created by your stove directly into the room as opposed to heating your ceiling meaning your room will heat up faster and you will save money on your fuel costs.
How does the Smartfan Work?
The smartfan creates its own electricity through the heat of the stove on which it is placed. The hotter the bottom of the stove fan the faster the 5 blades will circulate which in turn means your whole room heats up faster.
The electricity created from the heat from the stove propels two fan blades. The main fan blades distributes the warm air across the room and the axel blade at the top of the fan keeps the fan cool which increases its efficiency.
Features and Benefits of Smartfan
- Great Irish design with 5 blades on main fan means it distributes air more effectively than other similar products on the market. (Up to 350 meters of cubic air per hour)
- No electricity required to run
- Reduces fuel costs by up to 20%
- Will heat up your room much faster
- Save to use (fan blades will automatic stop when you touch them)
- Completely silent
- One year guarantee and two year extended warranty.
Which model of Smartfan do I require?
Use the chart below to decide which model best suits your requirements.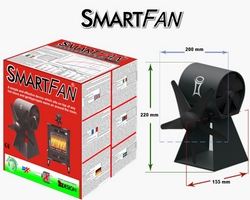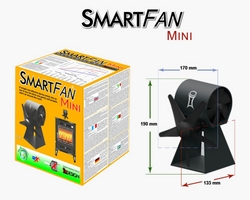 | | | | | |
| --- | --- | --- | --- | --- |
| | Smartfan | Smartfan Mini | Smartfan LT | Smartfan LT Mini |
| Height | 220mm | 190mm | 220mm | 190mm |
| Width | 200mm | 170mm | 200mm | 170mm |
| Depth | 155mm | 135mm | 155mm | 135mm |
| Weight | 1kg | 0.8kg | 1kg | 0.8kg |
| Temp Range | 65°C - 330°C | 65°C - 330°C | 65°C - 190°C | 65°C - 190°C |
| Main Uses | Wood & Other Burning Fuel Stoves | Wood & Other Burning Fuel Stoves | Soapstove / Gas Stoves | Soapstove / Gas Stoves |
| Fuel Saving | 20% | 14% | 15% | 11% |
| Airflow | Up to 350 M3 /H | Up to 220 M3 /H | Up to 230 M3 /H | Up to 170 M3 /H |
See Smartfan Demonstration Video
Related Products