Foil Hot Water Cyclinder Insulation Jacket (3 Sizes)
This foil based hot water insulating cylinder jacket known as the Armadillo is made from 25mm thick foam with a silver bubble cover.
Tests show that this unique design offers improved insulation qualities when compared with your traditional cylinder insulating jacket.
Designed to be simple to install the Armadillo jacket consists of five foil covered foam panels, three securing straps and a tie chord. It comes in three sizes to suit different sized cylinders.
36 Inches x 18 Inches (120 Litre cylinder)
42 Inches x 18 Inches (144   Litre cylinder)
48 Inches x 18 Inches (166 Litre cylinder)
Conserve energy and reduce bills with this clean and completely non-irritant cylinder jacket
How to Install the Hot Water Tank Foil Jacket 
1: Put the panels in a vertical position around the cylinder ensuring the eyelets are at the top so that the connecting pipework will be able to pass through the gaps between the panels.
2: Put the cord through the eyelets and tie off so that the panels fully cover the top of the cylinder.
3: Use the three straps to tie and secure the panels into final position
How the Armadillo Foil Jacket Compares to Traditional Hot Water Cylinder Jacket?
A standard domestic hot water cylinder was heated with an immersion heater to 60 degree celcius twice.
The first time it was fitted with a traditional four section plastic encapsulated fibre insulating jacket. The second time it was fitted with the Armadillo Jacket.
The results as outlined in the table in images clearly show that the heat loss from the cylinder is reduced when the Armadillo is fitted.
This means that the hot water you heat will stay hotter longer which can ultimately mean that you can reduce your energy bill.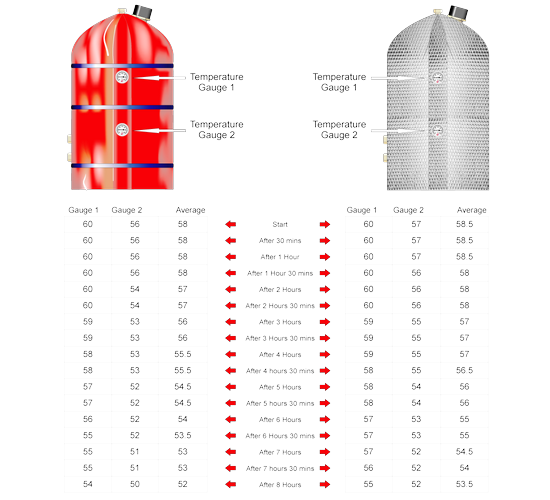 Related Products