We are 8 This Month Celebrate with Discounts
We are giving away the opportunity to save 8 euro on your order as long as it is placed before the end of November. (Extended to Midnight Friday Dec 1st)
Get discount code to avail of this offer below.
Back in 2009 the Minister for Finance in Ireland the late Brian Lenihan was busy telling reporters that "Ireland is facing a very difficult recession, somewhat worse than the rest of the world"
A great time to start a new business in Ireland then eh?
Probably not and there was certainly many times over the first 5 years in business in particular that ones own sanity was often questioned and the plug was nearly pulled on the business on more than one occasion.
An addiction to the live real time feed of google analytics was no doubt painful consequence for people in ones company to put up with as the thrill of seeing someone on the checkout page of your website about to spend money with you never subsided.
Then there the every 30 second ritual of refreshing emails in the hope that some great news was just about to hit your inbox other that the news that you had just inherited 10 million US Dollars from a long lost uncle living in Nigeria.
You go from closing down when sales are bad to a sale coming in and the misery being quickly forgotten.
Business is great, you refocus, you try even harder, you survive.
In 2016 we were recognised by our peers as Ireland's best Micro E-Commerce Business.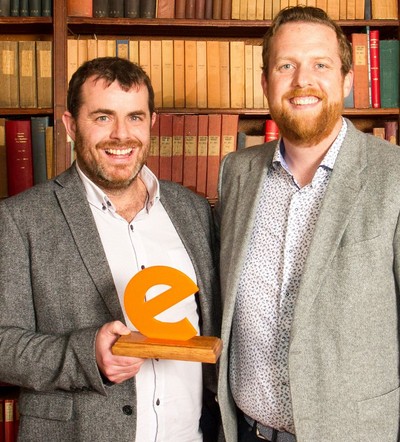 After 7 years of wondering if one was mad and the majority of people you know wondering the same thing it was finally vindication that yes this is a good business and all the hard work has been worthwhile.
We are 8 years in business this month. There is no millionaires involved in Purchase.ie. Just a few people and a brown furry head of security named Ralph (after the piano playing dog from the Muppet Show of the same name).
Its unlikely there will ever be millionaires involved in Purchase.ie but we are happy and we think we generally serve our customers pretty well with an ever expanding range of products.
A little 18 month old boy has put paid to some old bad habits! The live google analytics feed isn't as important anymore nor are the emails refreshed quite as often but we are still here and waiting to serve your needs.
To celebrate reaching our 8th year in business we are giving you the opportunity to save 8 euro on any order over the value of 50 euro.
To avail of this offer simply insert Happy8th at checkout when ordering online. Alternatively call us on 066 71 36 486 and we can process your discounted order over the phone. Its kind of like our own version of Black Friday except it goes on for about 9 or 10 days.
Please note offer is only valid until Nov 30th 2017 and is strictly only available to customers spending 50 Euro or more.
So if you are looking for Christmas gifts, trying to reduce energy bills, hoping to draught proof your home or as addicted to online shopping as your truly used to once be with google analytics we will be more that happy to hear from you and fulfill your order.
Here are a few old articles which might give you some ideas.
21 Products to reduce energy bills
How much is your electric appliance costing you?
Draught Proofing your Home with Irish Manufacturer Exitex
Great Energy Saving Products from Irish Manufacturer IQ Design
Christmas Gift Stocking Filler Ideas
Christmas Gift Ideas Under 25 Euro
Christmas Gift Ideas Under 50 Euro
Christmas Gift Ideas Over 50 Euro