15 Heating Products that will help you reduce energy bills this winter
Between working from home and restrictions on what we can do and where we can do it when not working we are never likely to spend as much time in our homes than we do this winter.
If your goal is to be as cosy as possible without running up huge energy bills either inside or outside your home in your garden or on the patio we have loads of great energy efficient options. Below see the top 15 heating products we recommend this year.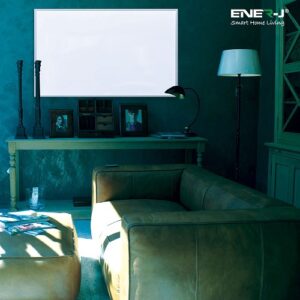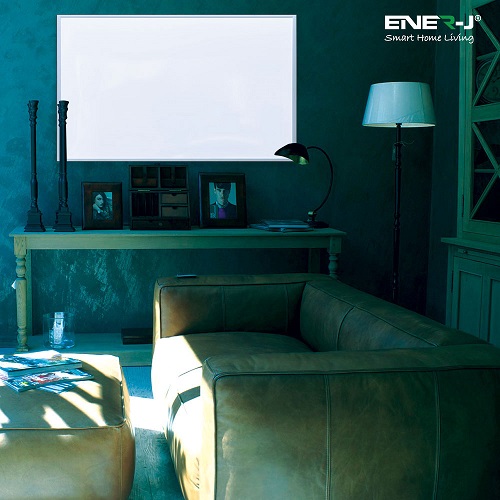 1: Far Infrared Panels – One customer that ordered Far Infrared heaters from us for his living room recently described it like sitting on the beach with the sun shining down on him but with the TV in front of him instead of the sea. This healthy, energy efficient and completely silent heating system can help you significantly reduce you heating costs  this winter whilst ensuring your home is very cosy.
We have extended our range of popular far infrared heaters for the 2020 winter season and on top of the ever popular 360W heater suitable to heat a 7 square meter space which costs just about 6 cent per hour to run we have introduced a new 600W heater which effectively heats a 12 Square Meter space and a 720W heater suitable to effectively heat a space up to 16 Square meters. There is also a 600W far infrared heater that doubles up as a mirror which acts as a nice decorative feature in your home.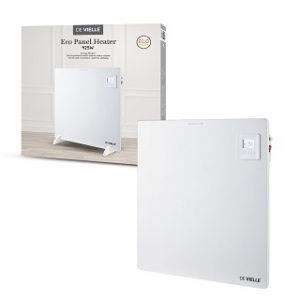 2: Eco Panel Heaters – back in stock by popular demand, the new model of these ceramic heaters as an inbuilt digital thermostat which can help you to keep your energy bills low as well as feet so the heater no longer has to be installed on the wall. It can also be freestanding which allows you to move it from room to room as required.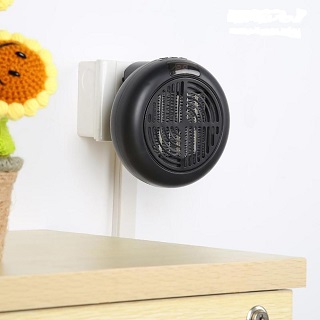 3: Socker Heater – Hugely popular product first introduced to our range during last years winter season. This chordless heater plugs directly into the wall taking up minimal space and blows heat into the room whilst only adding about 12 cent per hour to your energy bill. As inbuilt digital screen which allows you to adjust temperature on how long the heater stays on for.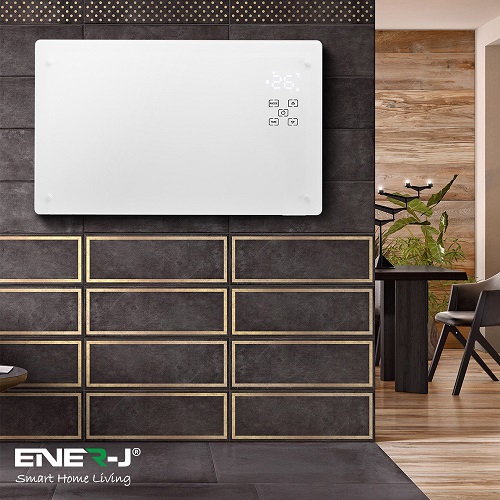 4: Smart Heater – A 2KW heater made from strong tempered glass which can be controlled through an App or voice controlled through Alexa or Google Home. This completely silent heater can be wall installed or used as a portable heater (standing feet and wall brackets supplied).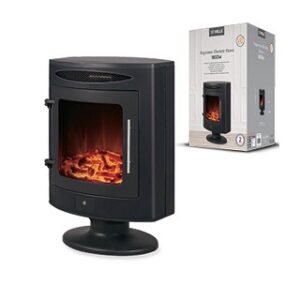 5: Electric Stove – New to our range from De Vielle this stunning 1800W black flame effect Supreme Cylinder electric stove allows you to adjust the brightness of the fire and can even be used just for ambience in the room. Special introductory price now available.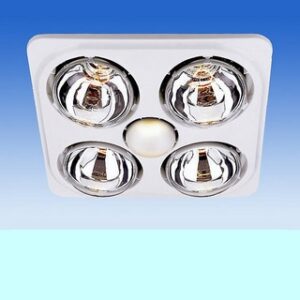 6: Bathroom Heater Light Fan – This clever 3 in 1 until acts not just as a bathroom heater but also as your fan and your bathroom light. Each unit includes 4 Heat lamps, an energy efficient 3.5W light and a 25W extractor fan. Smaller Mini Version with two heat lamps also now available.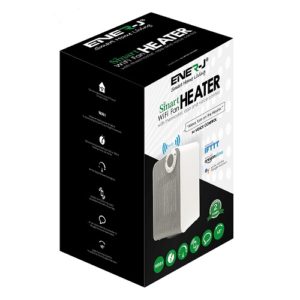 7: Portable Smart Heater – This smart fan heater can controlled through a Smart App, voice controlled or through touch buttons on heater. 1800W heater designed to heat a room quickly and includes a rotating mode to spread heat throughout room easier.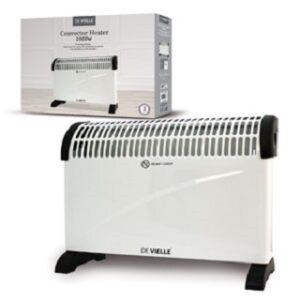 8: Convector Heater with Timer – 3 Heat setting heater with in built timer. Can effectively heat a space of up to 25 Square meters whilst adding about 36 per hour to your energy bill.
9: Tower Fan Heater – PTC (Positive Thermal Co-Efficient) heater which means it is designed to heat up room quickly and in an energy efficient manner. Has an oscillation mode (rotating function) to evenly distribute heat in room. Dual setting half heatin mode 1000w or 2000W full heating mode.
10: Dual Fan Heater – Unique fan heater which can be positioned flat or vertically so you can benefit to the maximum instantly. Has 1000W / 2000W heat setting and even has a cool air flow setting for summer with adjustable thermostat.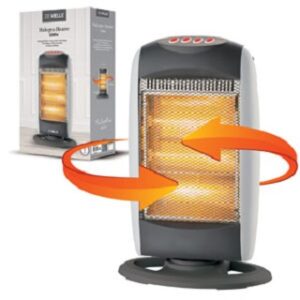 11: Halogen Heater – Powerful yet energy efficient rotating halogen heater with 3 heat settings 400W, 800W and 1200W. Tip over safety cut out feature.
12: Portable Infrared Outdoor Heater – Compact and reasonably lightweight this great infrared heater is easy to move from location to location. Dual heat setting depending on weather conditions. Even in full heating mode this heater should add no more that 20 cent per hour to your energy bill.
13: Outdoor Infrared Heater – A stronger outdoor heater which can be wall mounted or bought in conjunction with a stand if you want to use it as a portable heater. Full heat setting is 2000W which means it should add no more than approximately 36 cent per hour to energy bill when in use.
14: Frostwatcher – Ideal for attics, lofts, greenhouses or garages the frostwatcher has a sensor which detects when the temperature in a room falls below a temperature you can programme and will only turn on when it reaches that point. Great product to help prevent pipes from freezing during the depths of winter.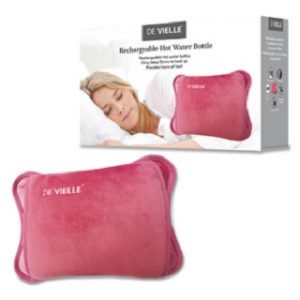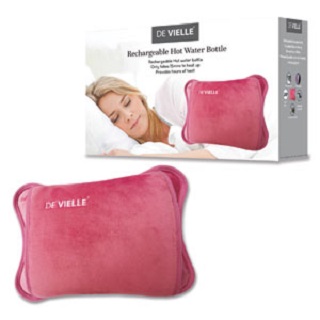 15: Electric Hot Water Bottle – Not a heater strictly speaking but one of our most popular products over the years which will keep you warm and cosy. Comes in grey or pink. Plug in for 15 minutes and it is charged for the night. Eliminates the risk of scalding which is always a danger with traditional hot water bottles.