360 Watt Far Infrared Heating Panel
360 Watt Far Infrared Heater Plus Remote Control
Normal Price €179.95 
Clearance Price €89.95
Heat your home in the most modern way possible thanks to the introduction of IR panel heaters from Enerj. These infrared heaters are designed to evenly distribute the heat throughout a small room and fit into a wide range of areas such as office suspended ceilings or into your living room.
The new version of this product (launched December 2020) have a Built-in Temperature Receiver which a remote control operates and allows you to adjust the temperature of the panel, and to set different timers.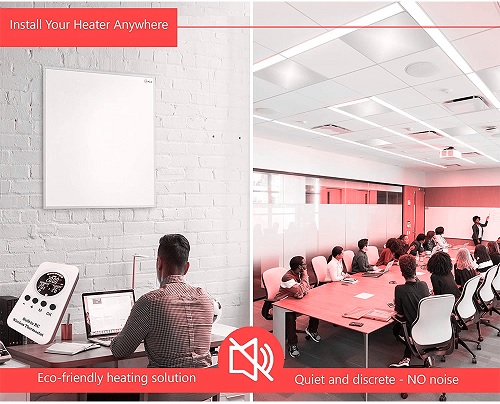 How Much does it cost to run and what area will one panel heat?
This 360W panel will only add about 6 cent per hour to your energy bill when in operation.
One panel will on average effectively heat an area of 4 to 7Msq in a standard room with an 8 foot ceiling. This may vary based depending on things like how well building is insulated and  if ceiling is higher than standard it won't heat as big an area.
The best place to install these panels in order to maximise efficiency is on the ceiling or high on walls.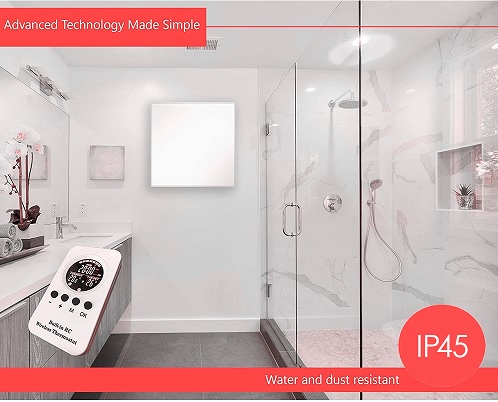 These panels come in a classic white colour as standard and measure 595 x 595mm. They are 22mm in depth.
Infrared heating is 100% natural, safe, highly efficient and CO2 free.
There are no maintenance costs by using them (up to 70% less cost than with traditional central heating).
They can reach a surface temperature of 115°C, ensuring an optimum comfort level.
They will integrate beautifully regardless of your interior decor, be it home or office while they make no noise, so they remain unnoticed.
Advantage of Far Infrared Heaters over Traditional Wet Radiators
Infrared is cheap to run, saving you money on your fuel bills.
Its easy to retro install, saving time, money and causing no disruption in the home or office.
Panels can be fitted high on the wall or on the ceiling to free up floor space.
Heat is evenly distributed throughout the room and a consistent temperature when compared with traditional central heating systems.

Panels look good and do not easily damage or mark as a radiator might
Radiant warmth feels comfortable and gentle
Panels do not create air currents, dust or harbour germs
Set up is also a lot easier than traditional central heating system, with each infrared panel requiring a 240V AC feed straight into it by the supplied 3-Pin Plug.
You needn't worry about burning yourself or anyone around you with your infrared heater, as each panel surface temperature is limited to 115°C. This means whilst being too hot it still runs at a temperature that allows you to get close to them.
This infrared heating panel is also IP44 rated, meaning that cleaning it isn't a problem and you can simply wipe whatever marks or stains you have on them away with a damp cloth.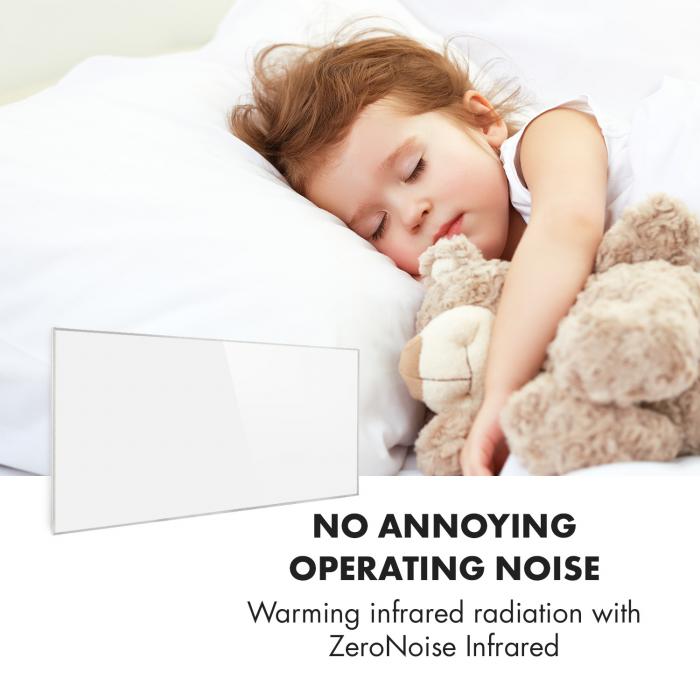 Far Infrared 360W Panel Specifications 
Working Voltage: 220 -240volts, 50 Hz
 Watts: 360W
 Size: 595*595*22
 Front Surface Temperature: 90-130 degree celcius
 Heating element: Far infrared carbon crystal
 Surface: White PET
 Protection: overheat protection device
 Frame: Aluminum frames(white)
 Energy Transfer Ratio: 98%
 Mounting: Wall mounted/ceiling mounted (recommended)
 Cable:1.9m EU/BS power plug cable with VDE certificate
Manufacturers Waranty: 3 Years
Weight: 2.8kg
Related Products