Bakerstone Pizza Oven Box for Barbeques
December Clearance Sale Price from Just €99.95
This award winning product allows you to easily convert your barbeque into a gourmet pizza oven ensuring you can serve up delicious cooked pizza within 3 minutes.
The pizza oven box comes in two sizes 12 inch and 14 inch.
The 12 inch model will work on most standard charcoal based barbeques (They need to measure 57cm or more in diameter)
The 14 inch model is designed will convert most 3 burner or larger gas barbeques into a pizza oven.
The Bakerstone Oven won the 2014 Glee Award in Birmingham as the best outdoor leisure garden product and allows you to not only cook pizza but also bake bread, cook fish and roast meat and vegetables.
Watch Video Demonstration of Bakerstone Pizza Oven Box
How the Bakerstone Oven Works 
When you place the Oven Box in position on the barbeque it reaches a temperature of up
to 400 degrees celcius (equal to a real wood burning pizza oven).
Unmatched baking and cooking performance is achieved by combining a stone baking chamber with an enameled steel housing, creating a unique air flow system which enhances the convective, conductive and radiant heat in and around the cooking chamber.
Pizza Oven Box Dimensions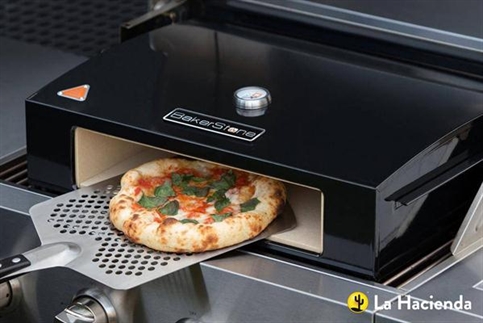 How to Use Pizza Oven
- Simply place on top of hot barbeque. 
- Wait for Bakerstone oven to reach the right temperature. See thermometer on head of the unit. When it reaches the flame symbol it is time to start cooking. (This generally takes about 15 minutes)
- Place pizza directly on to stones on oven and allow cook. (Cooking time generally varies between 3 and 6 minutes)
- Rotate whilst cooking to evenly brown crust on pizza.
- Remove, eat and enjoy.
Outdoor Pizza Oven Box Customer Review
Related Products