Steel Chimenea BBQ
Create warmth and ambience in your garden with this great solid and durable steel Chimenea from La Hacienda.
This traditonally designed chimenea comes with a slide in chrome barbecue grill.
It also includes a log grate, a rain lid and a metal tool for opening and closing door.
Steel Chimenea Specifications
Colour: Black
Height Assembled 88cm
Diameter 44cm
Weight 9kg
La Hacienda Chimenea Demonstration Video
Chimenea Care and Use
- Ensure it is positioned on a permanent flat, secure, heat resistant and non flammable surface.
- Unit may be left outside all year but should have protective covering during the winter. Rusting can also be slowed down by rubbing an oily rag over it after use and using a heat resistant paint on it.
- This Chimenea is only suitable for burning charcoal, untreated wood and logs
Lighting and Refuelling Chimenea
- Remove lid prior to use.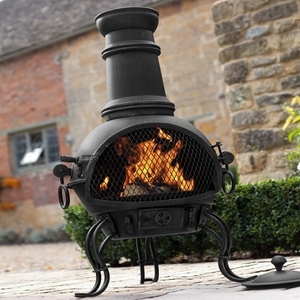 - Prepare a stack of crumpled newspaper and place on top of the fuel grate
- Pile finely split dry firewood or twigs on top of the paper.
- Use long safety matcheds or long nosed lighter to ignite fire.
- Once sufficiently alight add logs or larger pieces of untreated wood to the unit to increase the heat slowly.
- Do not overload with fuel  and ensure the fuel does not protrude from the front opening (using one or two logs at a times is sufficient)
- Always use heat resistant gloves when adding fuel and repositioning the door as the unit will become very hot.
- Always ensure the door is closed when in use and use safety tool provided to open and close the door.
Cooking on Chimenea
- Add 0.5kg of charcoal on top of fuel grate and light.
- Heat for at least 30 minutes to ensure high temperatures before starting to cook.
- When finished do not remove grill until it has completely cooled down.
Related Products