Instant Electric Hot Water Tap
This great new electric hot water tap allows you to produce instant hot water without the need to turn on your immersion or central heating.
This new electric hot water tap operates has a touch screen facility which allows you can adjust the temperature to run to up to 55 degrees celcius.
This tap connects up to your cold water supply and through an internal electric heating element you can run either cold or hot water from your tap without waiting or wasting water.
See Video of Instant Hot Water Tap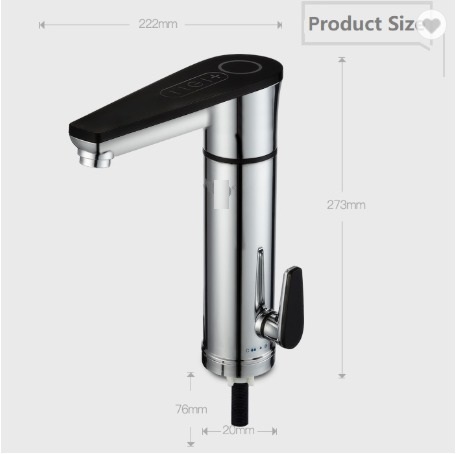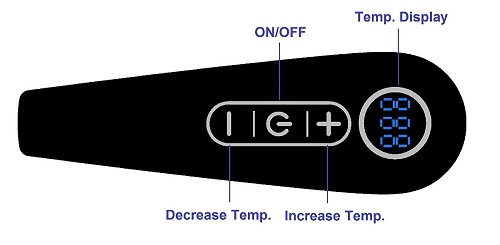 This stylish tap has a stainless steel body and a stainless steel faucet and will help give your kitchen a modern look.
Using patent heating technology this tap is perfect to use if you don't have combi-boiler or have to heat the water separately.
This electric hot water tap is for household use and public. It can be used for kitchen sinkbasin but is not suitable for your shower.
Go here for full technical details on installing this tap.
Advantages of an Instant Hot Water Tap
Traditionally we all either turn on the immersion or the heating system to heat it up water however doing this has three fundamental flaws
1: It takes a long time for the water to heat up(generally about 30 minutes for a 55 litre immersion) and this can be particularly frustrating especially when you are in a hurry.
2: Very often we turn on the heating system or immersion and heat a full tank of hot water when we only need to use a few litres for washing dishes or cleaning vegetables when cooking. The rest of the heated water is adding unnecessarily to your energy bill.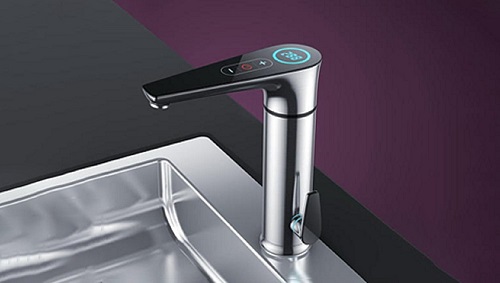 3: Because the water has a long way to travel from the boiler to the tap a lot of cold water is often wasted whilst you wait for the hot water to come through to the kitchen sink. With water charges on the way we can't afford to continue to do this.
Typical Saving By Installing the Instant Electric Hot Water Tap
Using a quite conservative estimate the Instant Electric Hot Water Tap is 70% cheaper than using an immersion to heat water.
Taking current energy rates in Ireland (about 19 cent per Kwh) it would cost around 65 cent every time you heat up a 55 litre immersion and it will take 30 minutes or more for it to heat up.
The Instant Hot Water Tap takes around 3 to 5 seconds to heat the water and will add only about 1 cent to your energy bill.
The estimated pay back time for this product is about 12 months for a typical family of four.
Electric Hot Water Tap Product Features & Specifications
Instant for hot water, no wait, no waste
Stainless steel body, stainless steel faucet.
Patent heating technology
Double selection for cold water & hot water supply
Touch screen to operate the temperature setting, auto 300
Memory function on water temperature to avoid repeated operation.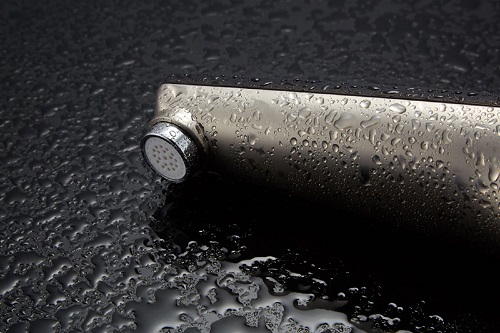 LED digital outlet temp. & setting temp. are clear at glance
Double micro switch control avoid dry heating
 Power cord can be connected above / under the table board.
 The nozzle is rotatable in 180°
Voltage: 220-240V/50/60Hz
Power: 3.3kw
Min. water flow to active unit: 1L/ per min
Work pressure: 0.02-0.6MPa
Height (Above sink) 273mm, height (below sink) 76mm Width (of Spout) 222mm
Weight 2.3Kg
Product Dimensions 48.8 x 12.7 x 25.5 cm
Temperature Range 30-50 Degrees Celcius
Where can the Instant Hot Water Tap be Installed?
It is ideally suited to either single or double basin sinks in the kitchen and it can be fitted to replace old taps.
It is highly recommended that a qualified plumber is used to install the instant hot water tap which is in accordance with water and electrical regulations.
Note we used to sell a plug in version of an Instant Hot Water Tap. This particular model needs to be wired into your mains electricity as it is not suitable as a plug in appliance.
If you need assistance sourcing a plumber anywhere in Ireland please call us on 066 71 36 486 

Click here for full instant hot water tap installation instructions
What Purchase.ie Customers Say About Instant Hot Water Taps
David Callan says:
I bought the instant hot water tap for my kitchen, its very handy having instant hot water and i only heat the exact amount of water i need, very happy with my purchase.
Mike says:
In July I bought an instant hot water tap from purchase.ie expecting a bit of a wait for it. I was amazed to return home 2 days later to find my purchase waiting for me. With water charges now being threatened I find my purchase has saved me a significant amount not only in power costs but it gives hot water quickly without the usual long flush required waiting for hot water to arrive from the immersion tank. I was very pleased with my business dealings with Purchase.ie.
Margot says:
In love with my electric tap! I no longer have to boil the kettle for washing up (went through a rake of kettles)! All the family very pleased. I also made various other purchases and the service was excellent.
Related Products