Ecocamel Aerated Hose Shower Head
Replaced by similar product available here 
Save energy and water whilst enjoying an invigorating spa shower experience with the all new Ecocamel Jetstorm water saving shower head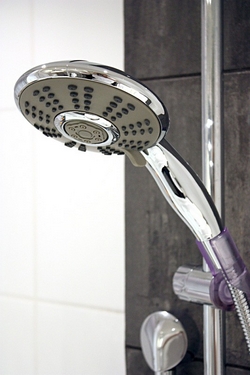 See new German Water Saving Shower Head only €24.95 with three spray settings and 78 jet nozzles here
Featured on the UK Apprentice on BBC 1 the Ecocamel has been described as 'one of the best performing showerheads... very little noise..... a good flow and even spray pattern' by UK independent water consumption agency Waterwise.
The Ecocamel Jetstorm uses twin Injet valve technology to reduce your water use whilst retaining pressure. It is estimated that an Ecocamel Jetstorm uses a maximum of 8 litres of water per minute whatever the bar pressure of your water flow. It will pay for itself within eight weeks.
If you have a shower with a wall fixing check out the Ecocamel Fixed Shower Head Here
The new faceplate and wipe clean rubber nodules also help prevent the build up of limescale another great feature especially if you reside in an area where hard water is common.
Watch Video About the Ecocamel Water Saving Shower Head
Features & Benefits of an aerated shower head
Saves Energy by Using Up to 60 % Less Hot Water
Eliminates clogging & scaling – contains removable face plate
Contains quick drain feature – anti-legionella effect
Easy to fit – no plumbing required- fits all standard shower hose
Sleek chrome design with unique spray effect
Water consumption - conventional showerhead - 12 litres a minute.
Water consumption – new Aerated showerhead 7 litres a minute.
Potential Savings with an Ecocamel Showerhead
It is estimated that with an aerated showerhead install a family of four will save over 43,000 litres of water every year.
It is estimated that a family of four can save up to €290 every year on water and electricity bills using the new aerated showerhead so this product will pay for itself in no time.
How does the ecocamel work?
Air is inhaled into the water stream through a venturi device at the base of the handle to create a mix of water and air.
This mixture increases the pressure inside the body of the shower head causing turbulence and spins the water at high speed.
Pressurised spa like shower spray gives an enjoyable full flow performance, delivering up to 60% savings on water.
More water is needed to wet you thereby increasing wastage.
The aerated showerhead spray actually contains lighter, softer water droplets that break on impact against the skin.
This gives an enhanced showering experience without water splashing everywhere.
Using the aerated showerhead in a bathroom with a shower curtain will push the curtain away from your body when you shower, in contrast to conventional non aerated showerheads which encourage the curtain to cling to your body rather annoyingly.
The Aerated Showerhead uses the principles of fluid dynamics to inject air directly into the water stream, forcing a strong pressure of air bubbles inside the shower head to causes turbulence and spin the water at high speed.
The extra velocity produces a unique pressurised shower spray increasing the volume and accelerating the water as it leaves the shower head to give powerful wetting and washing properties with a high impact rinse.
Installation of Ecocamel Jetstorm.
Simply unscrew your old showerhead and install your Ecocamel Jetstorm. To ensure a tight fit you wipe the threads clean on the shower arm and wrap Teflon tape over the thread.
Will the Ecocamel Jetstorm work on all showers?
Generally speaking yes the Ecocamel works perfectly well on all showers but on rare ocassions it is necessary to remove the restrictor at the base of the showerhead when using on electric showers.
When this happens you probably won't benefit from water saving as newer electric showers tend to be low flow anyway however the Twin Inkjet technology will probably improve the water pressure and thus your showering experience.
How does the Ecocamel Rate with Purchase.ie Customers?
S Brady says:
I bought an Ecocamel Shower Head from your site. Delivery was very prompt and the price was very competative compared to other sites I checked. Would definitely buy from the site again.
S Brady
Co Kerry
Nigel Mercier says:
The Ecocamel showerhead Jetstorm is impressive. Very good pressure but now with half the water and therefore half the electricity – very economical with a couple teenage daughters in the house!
Mary says:
I bought a few things a while back and am really happy with them.
The Ecocamel Water Saving Showerhead is great, it is as described and the fact that you can tilt it means no water builds up which is great! 
Overall the products were great, fast reasonably priced delivery, great overall service
Edel says:
Eco shower head excellent product arrived on time. Good company to deal with.
Related Products