Trolley Dolly
Make other shoppers green with envy with the stylish trolley dolly containing all the sustainable bags you will ever need. Comes in 7 different sytles and colours.
Trolley-Dolly is a patented world first solution to getting a realistic-sized supermarket shop back home without using a single plastic bag - not even for fruit and veg!
A fashionable outer bag stuffed full of easy to pack, easy to wash, comfortable to hold nylon bags which you simply pull out and fill with all your supermarket shopping!
Once you have got home and unpacked just cram them all back in and they are ready to go again the next time you need them.
Oh and you dont need to worry about these breaking they have been strength-tested to hold up to 13kg each - pack away!
8 x Vest-style carrier bags, Shoulder bags and Short Handled carrier bags (9 In older models)
1 x Bottle bag
1 x Box bag (In newer models only)
8 x fruit & veg net bags with cord lock closing fastener. Fully washable
1 x stylish carry bag in (10 different styles) in tough printed nylon which holds them all!
1 x Keyring
The interior bags are colour coded to help you pack by area - ie red for household, green for vegetables, blue for frozen goods, pink for cosmetics.....
There are also loads of handy extras on the outer pack, adjustable and removeable shoulder strap, shopping list slide-in window pocket, store card, car parking ticket and phone pockets and a large zipped pocket for your keys and wallet.
Outer Bag Dimensions(cm): 25h x 23w x 13d (not including handles)
Choose from one of the below 10 colours and styles
Kew
Fun and funky. This stylish floral bag will never go out of fashion.
Candy Dot Pink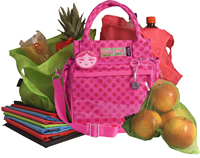 Indulge you flirtatious with this vibrant yet feminine candy dot pink trolley dolly. Be eye catching in the midst of the groceries.
Clown Dot Black
Conservative, with an undertone of exuberance. Perfect for the lady of mystery. Includes both bottle and box bag

Disco Dot Cream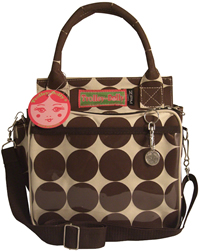 Cream and chocolate always a classic combination. Ideal accessory for the new autumn trends.

Mint Dot Turq-Choc
Turquoise always a favourite. Combined with brown it adds an extra edge and versatility.

Pin Dot Black
Sure to be a winner with the elegant sophisticated. Enclosed shopping bags add an explosion of colour.
Poppy Dot
Make the dullest day brighter with this cheerful combination of blue and pink.
Cow (New)
For the animal lover with a rural heart this stylish new style Trolley Dolly includes a brand new box bag which will easily fit 4 Large Pizzas or 10 Boxed Ready Meals.
Disco Dot Black Cream (New)

New arrival and cousin of the ever popular disco dot cream. Also includes the brand new box bag.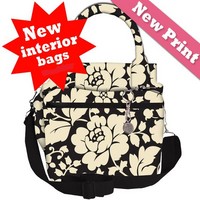 Floral Black Cream (New)
Another of the new arrivals. This vibrant black and cream combination is perfect for the nature loving type. Also includes the brand new box bag.
Related Products