Magnetic Radiator Reflective Foil
Replaced by Exitex Radiator Reflective Foil
This magnetic radiator foil is designed to be attached at the rear of radiators and reflects the heat back into the room as opposed to being lost through the wall.
The radiator foil is tear proof and very easy to install.  It simply attaches on through a magnetic strip and there is no need to remove the radiators from the wall when installing or indeed using glue or paste to attach behind the radiator.
Each pack comes with 5 0.5 meter sheets which should be enough to cover 4 to 5 average sized radiators.
How to Install the Radiator Reflectors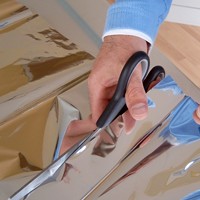 1: Measure the radiator size and then measure out and cut the foil the required distance to cover the rear of the radiator
2: Measure out the magnetic tape the same distance and cut.
3: Attach the self adhesive side of the magnetic tape to the radiator foil.
4: Attach to the back of the radiator in the best alignment position possible.
5: Move on the the next rad!
The panels can be removed and reattached at any stage should you wish to clean behind the radiator.
What are the savings by installing the Radiator Foil?
Every house will be different and if you install them on external walls it is likely to have a bigger impact than on internal walls. Taking everything into account (current energy rates, average time used not including summer months and average number of people per household) the savings should amount to about 30 Euro per rad per annum.
Related Products