ThermFlect Heat Reflecting Barrier
This product has been replaced by Exitex Radiator Reflective Foil
Thermflect is designed to help you to significantly reduce heat loss through walls and boost the performance of your radiators.
It can also be used for additional insulation in your loft, workshop or garden shed and as a sun screen in greenhouses and motor vehicles.
Each pack comes on a roll which is 10 meters in length and 40cm wide. To ease the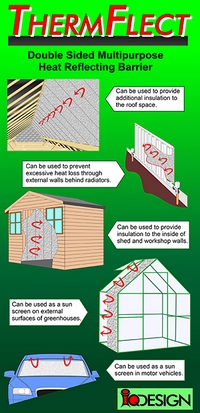 installation process strong self adhesive velcro tape and plastic discs are included in pack.
What is Thermflect Made of and how does it work?
Thermflect consists of a bubble formed matrix sandwiched between highly reflective aluminium foil skins. The Thermflect works by a process of reducing heat loss through Reflection, Insulation and Convection. What this means essentially is that heat radiation is reflected off the foil surface which in turn provides effective insulation.
How to Install Thermflect Reflective Foil?
Thermflect can be secured in position with by using the self adhesive double sided tape which is included in the pack. Alternatively it can be secured in position by stapling the Thermflect against plastic discs which are also included in the pack.
Using Thermflect Behind Radiators 
It is estimated that up to 40% of the heat created by radiators is lost through the wall. The Thermflect can be easily installed behind the radiator and reflect the heat back into the room. In can be fitted discretely so that it is not visible without looking behind the radiator and it can be easily removed and refitted when redecorating.
Using Thermflect for Loft Insulation 
Thermflect can be highly effective if installed on the underside of the roof trusses in your attic. By installing it here it will trap heat in the attic space and raise the temperature significantly. Esentially this will lead to reduced heat loss through the ceiling and help you to reduce your energy bills.
See Thermflect Radiator Reflector Demonstration Video
Related Products