750W Far Infrared Heating Panel
These infrared heaters evenly distribute heat throughout your room and fit into a wide range of areas such as office suspended ceilings or into your living room.
How Much does it cost to run and what area will one panel heat?
This 750W panel will only add about 12 cent per hour to your energy bill when in operation.
One panel will on average effectively heat an area of up to 11 to 18Msq in a standard room with an 8 foot ceiling. This may vary based depending on things like how well building is insulated and  if ceiling is higher than standard it won't heat as big an area.
The best place to install these panels in order to maximise efficiency is on the ceiling in the centre of the room. They can be installed on walls also but they will not be quite as efficient when placed there.
These panels come in a classic white colour as standard and measure 1195mm x 595mm. They are 22mm in depth.
Simply plug in to operate and control time by using in conjunction with a smart plug, a plug in timer or control time and temperature by using in control with a plug in thermostat 
Infrared heating is 100% natural, safe, highly efficient and CO2 free.
Perfect for children: The Infrared Heating Panel heats the organic things, objects and people in the room, not the air itself, which will help prevent congestion, heat irritation & dust accumulation.
Safe for children: Ultra-fast warm up with cool touch edge and automatic overheat protection for safe operation.
Save up to 60% of the cost: Lower energy bills and still feel cozy and warm with our Electric Infrared Heater Panel.
Suitable for wall mounting : a stylish way to heat up small to medium sized rooms by mounting it to walls (wall mounting accessories are included).
High quality: a long lifetime (50 years or 100000 hours) and 3 years manufacturer 's warranty from the date of purchase.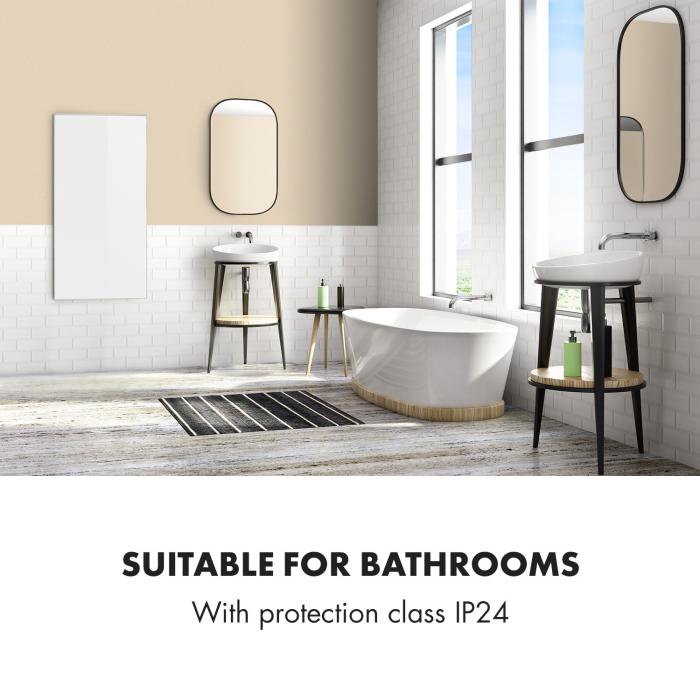 720W Far Infrared Panels Specifications
Working Voltage: 220 -240volts, 50 Hz
Watts: 720W
Size: 1195*595*22
Front Surface Temperature: 90-130
Heating element: Far infrared carbon crystal
Surface: White PET
Protection: overheat protection device
Frame: Aluminium frames (white)
Energy Transfer Ratio: 98%
Mounting: Wall mounted/ceiling mounted/ free standing
Cable:1.9m BS power plug cable with VDE certificate
Package: Individual PP bag/inner box/Protection foam