Water Butt Filter Collector
Made from high quality durable plastic this water butt filter collector not only fits the vast majority of downpipes on your home but also removes leaves from the water that you collect and ensures no sludge ends up in your water butt.
When connected to your water butt clean water will go directly into storage and dirty water and debris automatically runs down your downpipe into your drain.
When your water butt is full there will be not overflow instead this water butt filter closes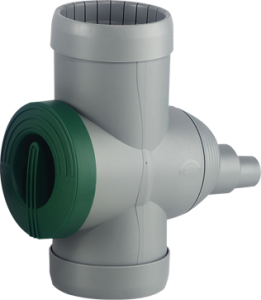 off the route to the water butt automatically and the water will instead run down the drain.
The filter system ensures that you can safely pump water from your storage if using something like a solar water powered pump or a battery operated submersive pump to easily use the water you have collected.
The filter fits all round downpipes (68mm  to 110mm and square downpipes 60mm to 75mm).
The filter is easily removed and cleaned without the need to demount the filter body from the downpipe, filter cartridge is easily pulled out to the side.
Filter inserts can be rotated through 2 positions open or closed. Integrated filter sieve. The mesh is made of stainless steel (mesh size 0.7 x 1.7 mm).
Easy installation and maintenance. Complete with outlet adapter fits 75mm (3″) 50mm (2″) and 32mm (1 1/4″) pipes or hose.
Watch Water Butt Filter Collector Video
Water Butt Filter Collector Colours
The Water Butt Filter Collector is available in four colours 
Black
White
Grey
Brown
How the Water Butt Filter Collector works 
1. Rainwater runs from the filter entrance to the sieve cartridge.
2. The dirt in the water is rinsed to the sides, and in to the sewer.
3. Cleaned water is led through the cartridge outlet channel and into the water butt.
4. Twist 180° to remove cartridge filter to clean there is no need to demount filter body from the downpipe.
Note: it is recommended to ocassionally clean the filter cartridge with detergent and a brush.
Water Butt Filter Collector Technical Details 
1. Reduction at O 68 – 110 mm.
2. Connector for downpipes O 110 mm.
3. Outlet connection at O 75 mm.
4. Adapter for connection O 50 mm/32 mm.
5. Guiding plates.
6. Stainless Steel filter mesh.
7. Settings for open/closed conditions.
The Water Butt Filter Collector is Suitable for:
Circular downpipes 68 – 110 mm diameter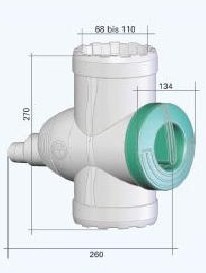 Square downpipes 60-75mm.
Housing material: Polyethylene
Mesh filter material: Stainless steel
Mesh size 0.7 x 1.7 mm
Weight: 0.86 kg
Related Products