Solar Powered Inflatable Light
This solar powered inflatable light from LuminAID packs down into a small portable size which can easily be hooked up to your backpack or stored in the glove compartment of your car or in a first aid kit.
Ideal for camping trips, boating trips or any ocassion ocassion it can provide more than 8 hours of constant light when switched on and can be adjusted between a low and high lighting mode.
The LuminAid is waterproof and can provide a pretty cool lighting effect whilst floating on water.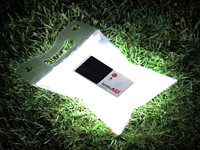 How to Use the Solar Inflatable Light
Place outside in direct daylight. It takes 7 hours to fully charge and whilst charging a red indicator light on the face of the product will shine.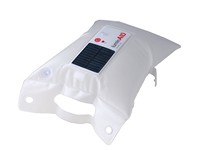 Open the inflatable valve and blow into it to expand the light.
To turn on press the red button. Press once for low lighting mode (15 lumens) and twice for high lighting mode (30 lumens)
The Solar Inflatable light can even double up to act as a water carrier. Simply open the air valve and fill with water.
Watch Video Demo of the Solar Inflatable Light
Solar Inflatable Light Technical Information
| | |
| --- | --- |
| Dimensions: FoldedDeflated | 5cm Length (L) x 3cm Width (W) x 0.5cm Depth (D)12.5cm (L) x 8.5cm (W) x 0.25cm (D) |
| Solar Panel | 5V High Efficiency Solar Panel |
| LED | 1 single White LED with 120 degree viewing angle and 1 red LED to indicate charging mode. |
| Battery | 3.7V 850 mAh Li-PolymerRecharge cycles: >500 times at maximum capacityIncludes overcharge protectionAutomatic LED shut off when battery reaches low voltage to prevent the battery from draining. Product automatically goes into charging mode or (Off setting) when battery is low |
| Storage | Li-Poly battery has the lowest discharge rate of all rechargeable batteries. It loses just 8-10% of its charge every 30 days. It can be stored for approximately 3 months and maintain the majority of its charge. It is best to recharge it every 2-3 months to maintain a healty battery lifespan. Ideal storage temperature is between 15-20 degrees C. |
Related Products