Chimney Snug - Chimney Draught Excluder
The Chimney Snug is a new Irish designed product. The innovator behind the Chimney Snug is Barry Waldron from Dublin.
This product is currently out of  stock until February. As an alternative you may wish to opt for a Chimney Balloon.
See Chimney Balloon Product Page Here
The Chimney Snug helps to prevent heat loss in rooms which have an unused fireplace and also prevent draughts entering the room through the flue of the chimney.
Simple to install within seconds (see chimney snug fitting instructions or view below video)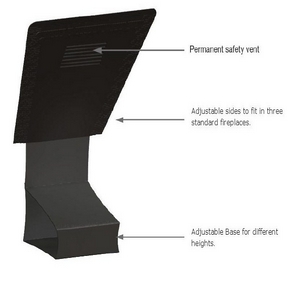 and to remove when you want to use the fireplace the Chimney Snug is also fully visible at fireplace level unlike other chimney draught excluders. Because of this there is no risk someone will light the fire when the Chimney Snug is installed.
The Chimney Snug comes in one size which fits all standard domestic chimneys (14 Inch, 16 Inch and 18 Inch) which means their is no requirement to measure your chimney flue before ordering.
It can also be easily taken out when you want to use the fireplace and re-installed afterwards.
It is especially designed to direct any raindrops or hailstone that fall down the chimney to the fireback of the fireplace preventing water from landing on the floor or carpets which surround the fireplace.
Each Chimney Snug has an in-built adjustable vent unit which allows some air flow through the chimney which prevents dampness and the build up of mould.
The product has been independently tested by Navitus Ltd in accordance to BS/EN 13829 and proven to reduce the airflow in the chimney.
Watch Chimney Snug Product Video
Related Products