Camcaddy 2 Camera Battery Charger
The Camcaddy from Solar Technology will charge virtually every type of camera battery from compact digital to video camera or SLR's and can be used off mains power, in the car or through a laptop of PC.
This new version the Camcaddy 2  has a host of enhanced features to deliver even better and faster battery charging performance.
Many of us have been guilty of buying a fancy new camera and then misplacing the
charger. When this happens it can be difficult to source a battery charger that is compatible with that particular camera battery. The Camcaddy takes that problem away.
Similarly many of us have been away on holidays only to find that the battery charger for your camera is not compatible in the area to which you have travelled. Instead of risking missing out on some great holiday pictures consider getting the Camcaddy.
Compact and lightweight, the CamCaddy2 provides universal charging for a full range of block style digital SLR, video and compact camera batteries, thanks to its unique contact sliders and its smart electronics that auto set the correct voltage to ensure safe and fast charging.
Supplied with a USB connection cable, CamCaddy2 can be powered from a lap top, PC or USB mains / car plug. If your travels take you beyond grid power, CamCaddy2 is fully compatible with the Freeloader Pico and a range of other solar chargers.
All you got to do is simply select the required power supply, mains, car or usb (adaptors supplied for all) for instant charging.
Camera Battery Charger Intelligent Information
CamCaddy's LED's give a clear indication of battery charge status – press the silver power button to indicate the level of charge, from 25% to 100%. This camera battery charger gives a clear a warning (red LED) if a battery has been inserted the wrong way (i.e positive to negative and negative to positive) – thus ensuring battery damage is not caused by a reverse polarity connection.
 How to Use Camera Battery Charger
Camcaddy is easy to use. Just position the battery between the silver support bar and CamCaddy's adjustable contact pins, select the required power supply (in car or mains) and you're ready for instant charging.

 What Makes the Camcaddy truely universial?
Camcaddy is supplied with threepower supply attachments:
1  USB cable: connect to any PC or laptop for instant power
2  In car: connect to any 12v in car socket for instant power
3  Mains: supplied with UK, Europe and USA compatible plugs means Camcaddy can be used in over 130 countries
 Camera Battery Charger Pack Contents
• CAMCADDY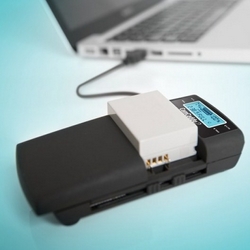 • POWER / USB CABLE
• CAR PLUG for a 12v DC power supply
• UK MAINS PLUG for a 230v AC power supply
• EUROPEAN MAINS ADAPTOR for a 230v AC power supply
• USA MAINS ADAPTOR for a 120v AC power supply
• COMPREHENSIVE USER MANUAL
 Camera Battery Charger Product Specifications
Made from tough rubberised plastics
Outputs:
Twin connection tips (positive and negative)
Inputs:
Micro USB charging Input
12v DC charging input
Dimensions: 55mm x 106mm x 24mm
Will accept a maximum battery depth of 6.7cm
Camcaddy Universal Camera Battery Charger User Manual.
Related Products