FOLDABLE COMPACT SOLAR CHARGER USB 5V / 12V OUTPUT
This foldable and compact charger with double solar cells is designed by Powerplus and known as the  Tiger.
It allows you to charge your mobile equipment using the power of the sun.
To use simply face the panel towards direct sunlight and connect your USB chargeable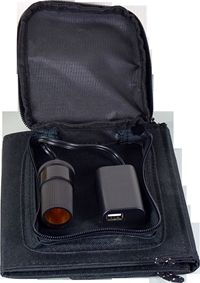 device for direct charging of your mobile equipment.
The 12V cigarette-plug and USB 5V output connectors are neatly fitted in a pocket on the reverse side of the solar cells.
Connection chords on all sides of the solar panel make it easy to connect it to a backpack and allows you to charge devices as you go.
Features and Benefits of Foldable Solar Charger
- Charging mobile phone and mobile devices
- Foldable compact design with velcro closing
- Powerful solar cells 5W for effective 3.5W output
- Connection cords
See Demo Video of Foldable Compact Solar Charger
Related Products