Make a bid to Save Money This Year
So 2012 has arrived and Im sure most of you are still struggling to keep the New Years Resolutions you have made.
As an eco site I guess Purchase.ie should be encouraging you to live a greener life in 2012, reduce your carbon emissions, hug trees etc. 'It's all well and good to be green when you got an endless supply of money….' you might say and we hear you.
So why not make 2012 the year of saving money and living a greener life in the process!
Here is our simple four point plan
1: Reduce your energy bills.
Late in 2011 all the major  electricity supplier (ESB Electric Ireland, Airtricity and Bord Gais) increased their rates by about 13%. No doubt many of you have already got bills that exceeded what you had budgeted for. Oil rates have risen, gas rates have risen so why not counter this by making some changes in your home or business to counter the increases.
Products like chimney balloons, rad booster radiator reflector panels and far infrared heating panels are just three products which can help you counter rising energy costs. Ok you got to outlay money to save but there are many products out their which will give you a quick return on investment. See a full list of energy saving products here.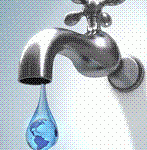 2: Reduce your water usage.
Householders still have not been hit directly with water charges in Ireland as the water meters have yet to be installed. What most people forget though is that in order to create hot water you are using energy. The ecocamel water-saving showerhead, the dish squeegee and tap aerators are three products which can help to counter this issue and save you money. See a full list of water saving products here.
3: Reduce your waste charges
The bintrasher can help you to compact your refuse and fit up to 40% more rubbish in your bin. If you are living in a local authority area which uses a pay per weight system then the Loofen Food waste dehydrator will reduce the weight of your food waste by up to 80% and will also prevent bad odours and fruit flies in kitchen, brown bin or composter. See a full list of waste management products here.
4: Use eco cleaning products
Ecoballs are a natural alternative to conventional washing powder which can reduce your detergent costs by 80%. Dry cubes are inserted in the tumble dryer with your clothes and reduce drying time by about 25%. Magnoballs help to optimise the performance of your washing machine and dishwasher by preventing the build up of limescale and the kettle and iron descaler speeds up the heating time and thus reduces your energy costs on these heavily used electrical appliances.
So make a new year's resolution to put a smile on your face and start saving money in 2012.