Purchase.ie at The Square in Tallaght Christmas Market
Purchase.ie is exhibiting at the Square in Tallaght Christmas Market every day right up to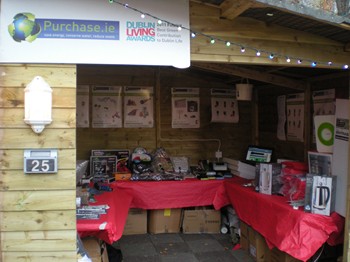 Dec 24th This German style Christmas market opened on Thursday November 24th and most of the stalls are set in cute wooden cabins.
A great place to sample the best in hot International Cuisines and pick up a wide range of great gift ideas from candles and knitwear to handbags and even remote control helicopters.
At The Square in Tallaght Christmas market you can find the perfect gift idea for all the family and Purchase.ie provides a wide range of practical gift ideas which can help to save money by reducing energy bills, conserving water and reducing waste.
A wide range of colourful and innovative eco gift ideas can also be found on the Purchase.ie stall suitable for all the family including eco educational toys, sheep-wool slippers and alternative grocery shopping bags.
A large percentage of the Purchase.ie products are also Irish-made including the Bin Thrasher to compact your bin waste and the Stopcock cosy to prevent your water supply from freezing.
Purchase.ie are also using the occasion to raise funds for the Capuchin Day Centre based on Bow St in Dublin 1. The centre provides meals, food parcels and day care facilitates to the homeless and those in need. The centre provides hot meals for up to 500 people in Dublin every day.