Smart Wifi LED Strip Kit
Speak to this new Wifi LED Strip Kit and tell it what to do as is compatible with both Alexa and Google Home.
Each kit is 5 meters in length with 300 LEDs and it can be controlled remotely from anywhere in the world through your Enerj smart app.
Control the lighting brightness, the colour and even the times of when it can automatically switch on and off.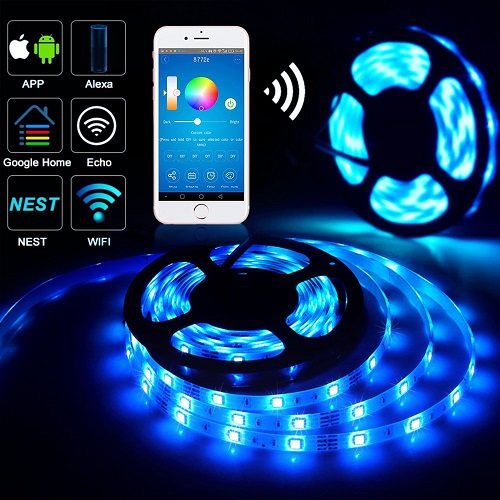 These Super bright flexible LED light strips have a long life span (in excess of 20,000 hours) and are low power consumption and thus easy on your pocket
Great for parties the Wifi Wireless Smart Controller provides for 16 Million Colours and through Smart Phone control (ENERJSMART APP) you can even make the lights dance with the rhythm of music you play from your Smart Phone.
You can also manage many wifi controllers at the same time by grouping them together under a Scene.
ENER-J's LED tape strip can be used for decorating your home (e.g. dining room, bed room, upstairs, kitchen, porch, desk, and living rooms, especially great for holidays and events like Christmas, Halloween, Parties)
Watch Demonstration Video On Setting Up your Wifi Smart LED Strip Kit
Where to Use Wifi Smart Led Strip Kits 
Great for home decor use for parties or special occasions like Christmas or Halloween.
Very popular in commerical buildings like hotels, pubs, clubs and shopping malls.
Suitable for use as Architectural decorative lighting, boutique atmosphere lighting.
Can be extensively applied in back-lighting, concealed lighting and channel letter lighting.
Good for use as emergency and security lighting or to highlight and advertising sign.
Wifi Smart LED Strip Kit Specifications
 Strip light: 5050 LED
 Length: 5meter/16.4ft
 Led quantity: 300leds/reel.
 Color: RGB
 Waterproof: Yes
 Lumen: 10lm per led
 Width: 10mm
 Work temperature: -20~60 degree centigrade

Power supply:
 Input Voltage: 100~240V AC
 Output Voltage: 12V DC
 Output Current: 6A
 Plug Type: UK Plug
Widely used in Industrial automation, LED display, communications, etc.
 Protection: Shortage Protection, Overload Protection, Over Voltage Protection
 Safety Compliance: CCC/CE
 Working Temperature: 0~40
 Storage Temperature: -20~60?
 Ambient Humidity: 0~95% Non-Condensation

Wifi Controller Receiver:
 Product Category: Led Constant Pressure Controller (DC).
 Control Principle: WIFI
 APP Type: ENERJ SMART
 Mobile Version: Android 4.0 /IOS9.0
 LED Drive types: Constant Voltage
 Channel: RGB
 Input Voltage: DC5-28V
 Out Current: 4A/CH
 Application range: Low voltage Lamp, Panel Lamp, etc. Constant pressure drive product.
 Connect Method: Common Anode.
 Waterproof Level: IP 20
 Working Temperature: -20 to +55 degrees Celsius
 Product Certification: CE RoHs FCC

Package contents:
 1 x 5M 300 led strip light
 1 x Wifi Controller receiver
 1 x Power Supply
Related Products