Solar Outdoor Fairy Lights
Make significant saving on your energy bill with these wonderful 100 LED Solar String Lights available in 5 colours (Warm White, Blue and Multi-Colour, Cool White and Cyan) Great for Christmas or indeed any festive occasion.
A survey conducted on behalf of the Energy Saving Trust in the UK found that a typical 100 set of 5 Watt outdoor fairy lights consumes 207 KW if switched on 6 hours per night over the Christmas period.
Based on current energy rates in Ireland this translates into about 41.40 Euro per 100 Light set every Christmas
After the initial layout these Solar Fairy Lights will add nothing to your energy bill.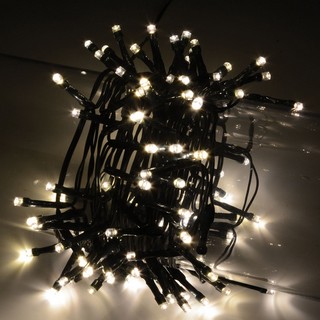 Solar Fairy Lights Features
- Built in battery recharges through solar energy created by daylight
- Easy to install (no wiring necessary)
- High IP rating  of 44 making them rain resistant and perfect for  outdoor use.
- Dusk to dawn light sensor (lights automatically come on when it gets dark and switch off in the morning as it gets bright)
- Automatically charges when lights are off and can provide light output for up to 12 hours when fully charged.
- Concave shaped LED head gives consistent and uniformed brightness at all angles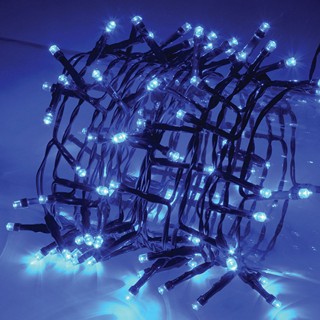 Solar Fairy Lights Specifications
| | |
| --- | --- |
| Batteries | 600mAh (rechargable solar pack) |
| No of LEDs | 100 |
| LED Spacing | 50mm |
| LED Length | 5m |
| Overall Length | 10m |
| Cable Colour | Green |
| IP rating | 44 |
| Solar Pack Distance to First LED | 5m |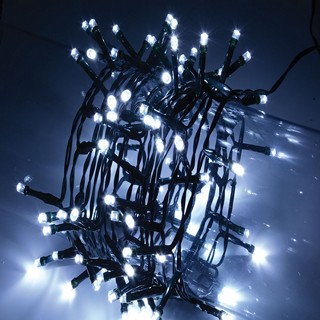 Installing Your Solar Fairy Lights
It is important to position the solar panel where it will receive maximum sunlight.
The position needs to be where it is free from cover or shade and, ideally, in a position that receives full sun throughout the day.
Avoid other light sources which may cause solar lights to flicker on and off.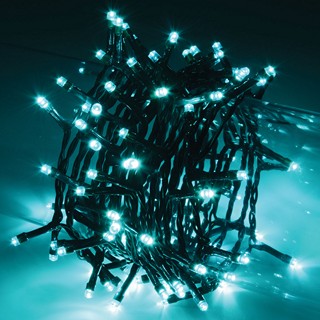 Secure the lights carefully so they cannot be damaged.
Insert the solar panel spike in the ground or otherwise make it secure and ensuring the angled toward the lights
If solar panel get dirty, the charging capacity will be reduced. Clean panels occasionally with damp clothes.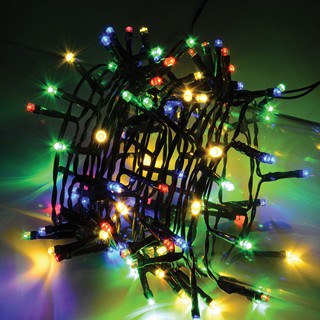 Features and Benefits of the Solar Fairy Lights
As bright as mains powered fairy lights
Fully weather proof and water proof
Up to 12 hours operation once fully charged
Turn on and off automatically
On / Off switch to override automatic function.
Charge by day, light at night
Easy to install anywhere - Detailed User Guide enclosed
No operating costs
1 year warranty
CE Certified
Related Products