Eco Eye Smart Electricity Monitor
The smart energy monitor is the most recent model that Eco Eye have produced and on top of all the energy measurement features the older models have, the smart boosts a number of attractive new features.
The smart monitor allows you to set your own daily energy usage targets and has a built in traffic light load indicator which very visually display excessive energy use patterns.
Both the smart monitor and the smart pc are suitable for domestic use. The Eco Eye Smart 300 and Smart 600 are essentially the Eco Eye Smart for three phase commercial premises.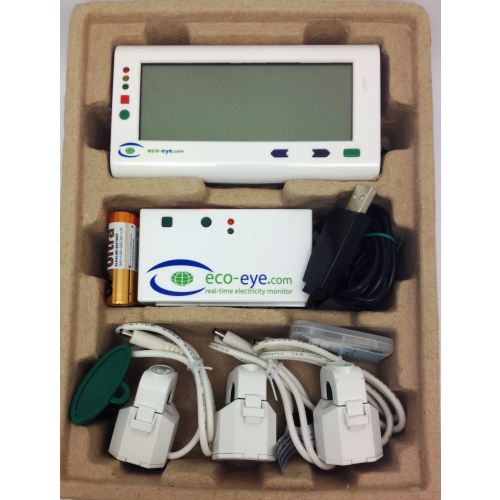 The only difference between the Smart 300 and the Smart 600 is that the Smart 300 comes with three standard sensor clamps for cables up to 13mm in diameter whilst the larger sensors can handle up to 200amps and is suitable for cables up to 22.5mm in diameter.
If in doubt it is always safer to opt for the Eco Eye Smart 600 option as it will work whatever your situation is.
An on screen  daily usage target graph also allows you to easily see if you are under or over target on your energy usage on any given day.
You can also store historial data for up to 128 days with the Eco Eye Smart.
The monitor itself is more energy efficient than the older models with the average battery life of 3 years as opposed to one year for the Mini and Elite models.
For those looking for an even deeper analysis of their energy usage patterns they can opt for the Smart PC Monitor kit which includes an Eco Eye Memory Card and USB data cable and allows you to create detailed graphical information on your computer using the Eco Eye Trax Software.
By using the Smart PC kit you can store data for up to 10 years through the memory card. There is no need to keep your PC on 24/7 to use this product as you can choose to transfer the data in real time via the USB interface cable or data saved to the memory card.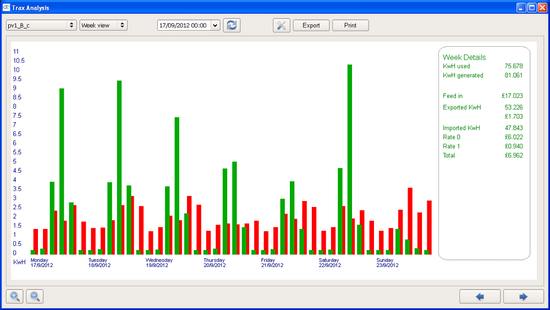 What Comes in the Smart Energy Monitor Packs?
- 1 Smart display monitor
- 1 Standard 13mm sensor and cable (Smart 300 comes with 3 standard sensors, Smart 600 comes with 3 large sensors)
- 1 Transmitter
- 2 AA Batteries
- 2 C Batteries
- 1 Plastic Access Key
- 1 Eco-Eye Memory Card (Smart PC Model, Smart 300 and Smart 600 Only)
- 1 USB Data Cable (Smart PC Model, Smart 300 and Smart 600 Only)
- Detailed Installation Instructions
Eco Eye Smart Energy Monitor Check List and Technical Specifications
| | |
| --- | --- |
| Portable Display Unit | Yes |
| Display Freestanding | Yes |
| Can it be Wall Mounted | Yes |
| Wireless Transmitter | Yes |
| 100 amp 13mm sensor 3 phase compatible | Yes  (Choose Eco Eye Smart 300) |
| 200amp 17.5mm sensor 3 phase compatible | Yes  (Chose Eco Eye Smart 600) |
| Coverage range | 30 meters |
| Display Unit Size | 138 x 70 x 38 mm |
| Screen Size | 114 x 43 mm |
| Maximum number of sensors you can use | 3 |
| Is it Multi-Tariff | Yes (6 tariff options on Smart PC, Smart 300 and Smart 600 Models) |
| Transmitter Battery Life | 1 Year plus |
| Monitor Battery Life | 2 Year plus |
| Transmitter sample rate | 4 seconds |
| Low battery warning | Yes |
| Connectivity Indicator | Yes |
| Display Currency options | € £ $ |
| Current sensing range | 0.2 – 100/200 Amps |
| Transmitter mains power option | Yes |
| Display monitor mains power option | Yes |
| LCD Display panel | Yes |
| Other Features | |
| 24 hour clock | Yes |
| Temperature Display | Yes |
| USB PC Data Link | Yes |
| PC data Analysis software | Yes |
| Memory Card Socket | Yes |
| Traffic light load indicator | Yes |
| Daily target graph | Yes |
| Daily target % display | Yes |
| History Reset Facility | Yes |
| Firmware upgrade (User) | Yes (Requires USB Cable) |
| Display Modes | |
| Hour | Kw / Cost /KgCO2 |
| Day | Kw / Cost |
| Week | Kw / Cost |
| Month | Kw / Cost / KgCO2 |
| Year | Kw / Cost |
| History | |
| Period accumulated display | Yes |
| Sequential display of all modes | Yes |
| Trip Meter User Settable | Yes |
| Data Storage Capacity | 128 Days (10 Years with Smart PC, Smart 300 and Smart 600 Models) |
Related Products