Eco Eye Mini Electricity Monitor
The eco eye mini is probably the easiest to use energy monitor on the market.
It has a large screen which focuses on showing just one piece of information at any one time thus avoiding the confusion that many other energy monitors on the market can cause by simply having too much information on the screen.
The Eco Eye Mini is easy to install (no electrician required) and gives a real time measurement on what energy you are consuming so that you can act upon your usage behaviour immediately.
The monitor itself is free standing so you can bring it with you to any room in the house to
access where all the energy is being consumed.
The monitor itself is compact in size 75mm (height) x 75mm width x 50mm depth.
If you energy bill has a night saver tariff the good news is that the Eco Eye Mini can facilitate dual tariffs so you will always get an accurate reading.
What comes in the Eco Eye Mini Energy Monitor Pack?
- 1 Display Monitor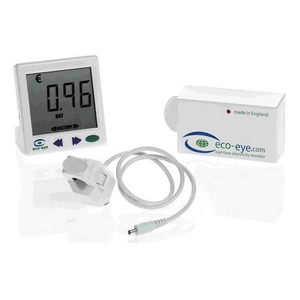 - 1 Standard Sensor (13mm) and cable (Clips on to power supply)
- 1 Transmitter unit (attaches to sensor)
- 4 AA Batteries (powers both the display monitor and transmitter)
- Plastic Access Key (for setting up monitor)
- Details instructions on how to use.
See Eco Eye Mini Video
Above video shows that by simply turning on an electric kettle the cost of energy increases from 0.15 cent per hour to €2.90. Might make some of you consider the Vektra Eco Kettle
Eco Eye Mini Check List and Technical Specifications
| | |
| --- | --- |
| Portable Display Unit | Yes |
| Display Freestanding | Yes |
| Wireless Transmitter | Yes |
| 100 amp 13mm sensor | Yes (included in pack) |
| 200amp 17.5mm sensor | Yes (sensor has to be bought separately) |
| Coverage range | 30 meters |
| Display Unit Size | 75 x 75 x 50 mm |
| Screen Size | 60 x 60 mm |
| Maximum number of sensors you can use | 3 |
| Is it Multi-Tariff | Yes (2 tariff options) |
| Transmitter Battery Life | 1 Year plus |
| Monitor Battery Life | 1 Year plus |
| Transmitter sample rate | 4 seconds |
| Low battery warning | Yes |
| Connectivity Indicator | Yes |
| Display Currency options | € £ $ |
| Current sensing range | 0.2 – 100/200 Amps |
| Transmitter mains power option | Yes |
| Display monitor mains power option | Yes |
| LCD Display panel | Yes |
| Other Features | |
| 24 hour clock | Yes |
| Temperature Display | Yes |
| History Reset Facility | Yes |
| Firmware upgrade (RTB) | Yes |
| Display Modes | |
| Hour | Kw / Cost / Amps |
| Day | Kw / Cost |
| Week | Kw / Cost |
| Month | Kw / Cost / KgCO2 |
| Year | Kw / Cost |
| History | |
| Period accumulated display | Yes |
| Sequential display of all modes | Yes |
| Data Storage Capacity | 32 Hours, Days, Weeks and Months. 4 Years |
Related Products