Owl Intuition PV
OWL Intuition-pv is designed is monitor your Solar PV installation and provides real-time access to your electricity consumption and solar generation data through your web browser, smart phone or tablet.
How does the Owl Intuition PV Solar Energy Monitor Work?
The Network OWL gateway automatically logs all of your consumption and generation data securely within the Intelligent Cloud software platform.
You can then login to view your live and historic data, from any Internet connected computer or access OWL Intuition-pv on your smartphone using a dedicated iPhone or Android App which are free to download. (see links below)
Network OWL gateway simply plugs into your existing broadband router and wirelessly links with the Transmitter and two Sensors.
Features and Benefits of the Owl Intuition PV
- Energy data is automatically and continuously collected and stored within the Intelligent Cloud via a Network OWL connected to your existing broadband Internet connection
- Allows for monitoring of PV generation, export and overall energy consumption of a property fitted with Solar Panels.
- Real time and accumulated data can be viewed via: Web browsers (including iPad)iPhone and Android smartphones
- Shows live reading at 12 second intervals and can tell you when you have improved your energy usage habits and when your solar panels are performing better.
- Clear summary information with trend indicators  and "hover over" analysis
- Easy to read graphs with hover over detail values
- Ability to print or download graphs
- User configurable tarriff settings allows you to calculate what you have spent over the course of a day, week or month. (Supports Economy 7 timed tariffs)
- FITS settings allows you to see the tangible impact the solar panels are having on your energy bills.
Which Owl Intution PV do you Need?
There are two common Solar PV wiring configurations, see the diagrams (below) to determine which type you have.
If you have a Type One installation then you just need to purchase the standard Intuition-pv pack.  This is where the feed from the PV Inverter is connected into a Henley junction block, together with the feed from the grid supply meter, before connection to the Consumer Unit / Distribution Box.
If you have a Type Two installation then you will need to purchase Intuition-pv Type 2 pack which includes both a "Y" cable and the additional Sensor clamp required. This is where the feed from the PV Inverter is connected straight into the Consumer Unit / Distribution Box.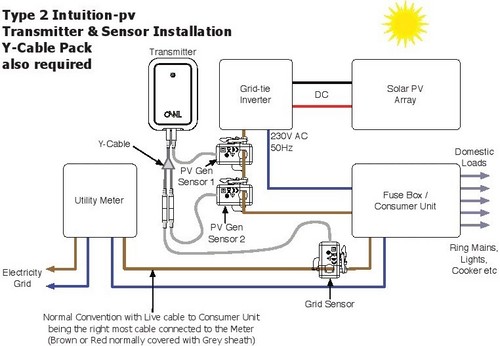 Owl Intuition PV What Comes in the Pack?
Network OWL Gateway with external antenn
Plug top power supply – 240V
Ethernet cable
3 channel Transmitter unit
2 x standard Sensor clamp (< 10mm cable, < 71A)
3 x AA alkaline battery
Installation /User Manual
If required Large Sensor clamps (< 17mm cable, < 200A) can be ordered here.
Owl Intuition PV Product Specifications
Operating frequency: Transmitter - 433MHz
Network OWL Gateway – 433MHz and 868MHz
Operating range up to 30m
12 second refresh rate (Electricity consumption data)
Transmitter battery life > 14 months
Sensor suitable to monitor cables rated up to 71A
Storage conditions: -25˚C to +65˚C
Relative humidity: 25% to 95% non-condensing
Operating temperature: 0˚C to 40˚C
Ingress protection: IP30
Standards
IEC 61010-1:2001(2nd Edition) / EN 61010-1:2001(2nd Edition)
ETSI EN 300 220-1 V2.1.1 (2006-04) / ETSI EN 300 220-2 V2.1.2
(2007-06)
ETSI EN 301 489-1 V1.8.1 (2008-04) / ETSI EN 301 489-3 V1.4.1
(2002-08)
R&TTE - WEEE Directive, RoHS, Battery Directive
Web browsers must have JavaScript enabled. OWL Intuition is optimised for use on Internet Explorer 9+; Safari 5+; Safari iOS 5+; Chrome 17+
Owl Intuition PV Important Links
Owl Intuition PV Installation Guide
Log in here to test Owl Intuition (Username:  Owldemo3, Password: demo)
Download Owl Intuition Iphone App
Related Products