Ultra Light Ladies Wellies
Three times lighter than a normal pair of wellingtons these Ladies Wellies from Polish company Demar are made primarly with your comfort in mind.
Now available in Red as well as navy
Made from EVA material which is used to make the leading fashion brand Croc the material is crack resistant, has hot melt adhesive waterproof properties and has good clarity and gloss.
These stylish Ladies Wellies are known as the Luna A and are ideal wearing around the garden, for fishing, farming or any outdoor activity.
They come in a navy blue colour and are available from Purchase.ie in Ladies sizes 34/35 to 40/41 (2-8)
The extremely light weight Luna A are waterproof and are fitted with removable warm lining for extra comfort. The lining is even washable up to 40 degree celcius so there is no excuses for the wellies to ever become smelly
Made from EVA these very competitively priced wellington with inner lining will ensure your feet are kept warm on cold winter days.
Manufacturers Demar are a Polish company who are trading since 19 78. They produce over 2.5 million pairs of shoes a year and supply the Polish Army and foregin military services with a few hundred thousand pairs of shoes every year.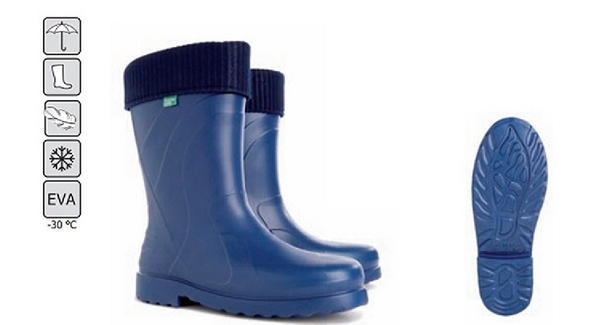 Demar Ladies Welly Sizes
| | |
| --- | --- |
| | |
| UK  (Womens) | EU (Womens) |
| | |
| 2 | 35 |
| 2.5 | 35.5 |
| 3 | 36 |
| 3.5 | 36.5 |
| 4 | 37 |
| 4.5 | 37.5 |
| 5 | 38 |
| 5.5 | 38.5 |
| 6 | 39 |
| 6.5 | 39.5 |
| 7 | 40 |
| 7.5 | 40.5 |
| 8 | 41 |
| 8.5 | 41.5 |
| 9 | 42 |
| 9.5 | 42.5 |
| 10 | 43 |
Also Check out
Demar Ultra Light Mens Predator XL Wellies
Demar Ultra Light Mammut Girls Wellies
Related Products