Water Powered Motor Cycle
A new addition to the Powerplus Junior range of salt water powered vehicles the purpose of which is to educate children about alternative sources of energy.
The first in this range was the salt water powered car known as the Marlin which was followed by the four wheel drive car (the thunderbird)
This new salt water powered motor cycle has a clever self balancing system and is called
the racehorse (powerplus tend to call everything after an animal of some kind)
Because of the self balancing nature of the design the motorbike can run straight, circle left and right and perform s turns.


It requires no batteries to operate this product instead you just connect the included fuel cell and add a few drops of salt water.
It comes with a detailed DIY assembly guide and will provide hours of fun when installed.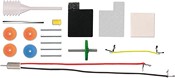 Related Products