Solar Recycler
The solar recycler is another innovative educational product from the Powerplus junior range to help all family members learn about recycling and alternative energy solutions.
Through the materials within the solar recycler kit you can make six different toy models which charge by natural daylight and move when charged.
In addition to the kit you will need to collect plastic bottles, cans and CD's to help you create these toys. So recylce your waste and create these great models
There is six models in call which can be created from the materials supplied in the Solar Recycler Toy Model Set.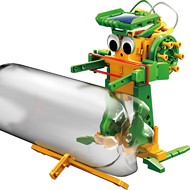 Related Products