DIY Undersink Water Filtration Kit
This all in one DIY Quick Change domestic water under sink water filter system contains everything you require (even the tap) to enjoy you can enjoy great tasting drinking water straight from your water mains.
The kit includes an in line carbon filter which removes chlorine, odours, sediment and unpleasant tastes from your water ensuring you can drink clear high quality fresh tasting water straight from your tap.
The tap is easy to install and comes with detailed step by step instructions.
The carbon filters do need to be changed but not very often. One filter will give you approximately 6,000 litres of fresh drinking water before you need to change it.
This works out at a cost of 2.4 cent per litre after the initial cost of installing the kit.
What does the Undersink Water Filtration Kit Contain?
- 1 Swan Neck Sytle Tap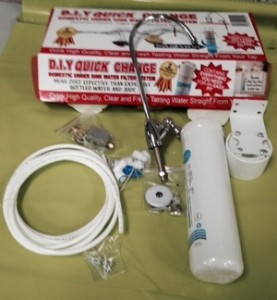 - 1 Base Filter
- 1 Bracket
- 1 Quick Change Filter
- 1 Quick Fit Cutting Valve
- 1 On/Off Valve
- 1 Pipe (2 meters)
- Detailed fitting instructions
See Undersink Water Filtration Kit Demonstration Video 
Related Products