Water Saving Male Tap Aerator
These great water saving tap aerators are have an external thread and are to be fitted on standard taps with an internal thread.
They will reduce the water flow in your tap to just 4.5 litres per minute helping you reduce both your water charges and your energy bill (when using hot water!)
These male thread water saving tap aerators are self cleaning with an anti-lime stainless steel sieve ensuring they are not susceptible to lime scale build up.
Housed in a polished and chromed brass you will get a soft comfort jet spray from your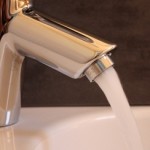 taps when these are fitted which ensures no water splashes through the mixing of air and water.
Ideal for kitchen and bathroom taps these great tap aerators are very low maintenance due to the self-cleansing feature and come with a 12 month manufacturers guarantee.
The water saver faucet aerator is devised in such a way that it can be set-up on all kinds of tap faucets.
There is also an anti- theft installation key available which tends to be particularly popular with customers in the hotel and catering business.
Please note for Kitchen taps we strongly recommend the Kitchen Swivel Tap Aerator.
What is An Aerated Water Flow?
Essentially this is when air mixes into the water. It produces a larger, whiter stream that is soft to the touch and non-splashing. This stream is the perfect choice for residential faucets and can go a long way to helping you reduce your domestic bills.
Male Tap Aerator Product Specifications
Product dimensions 23 x 22mm
Weight 18g
Estimated water saving 50%
Manufactured in Germany
What is the difference between Male and Female Water Saving Tap Aerators?
Male fitting tap aerators are fitted internally on your taps while female fitting tap aerators available to order here are used when the tap on which you are fitting the aerator has external treads.
In essence A female aerator has the threads on the inside of the aerator, whereas on a male aerator the threads are on the outside of the aerator. The female aerator can be viewed here.
Tap Aerator Fitting tip
Use a bit of silicone grease on the threads when fitting as this helps to seal it properly. It will also make it easier to remove if you ever need to replace the aerator.
See Video Demo on Installing Tap Aerator Below

Related Products