3 Bagz
We no longer sell this product
Ideal for a small shop 3BagZ is so compact you can take it with you everywhere! Comes in 6 contrasting styles and colours.
When one is not enough 3BagZ tucks perfectly into a briefcase, handbag or car glove compartment. It is ideal for a small shop on the way to work, when you nip out at lunchtime, or a quick supermarket sweep for dinner on the way home. The outer bag folds out from its pouch and within are two more strong and rewashable bags which can comfortably take weights of up to 15kg.
No more plastic bags ever required when shopping. 3 Bagz really are sustainable bags for life.
Choose from one of the styles and colours featured below.
Chequers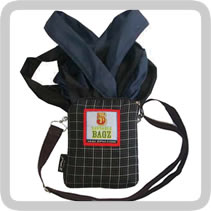 Make Chequers a game for the man in your life with this trendy '3 bagz' Carrier bags and shoulders bags comes in shades of blue and navy - Perfect for the man in denims.
Flowers of Nepal
Three hundred types of orchids flourish in Nepal. You will attract more than three hundred admiring glances when you shop with this exotic 3bagz.. Who said shopping is boring???
Jelly Dots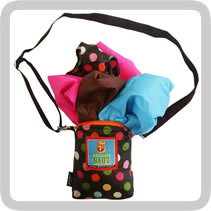 The sweetest bag. Its vibrant colours and simple design will appeal to the young at heart. This happy bag deserves frequent outings to the shops!
Marine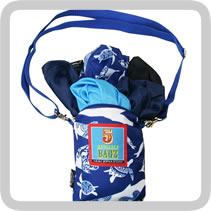 Your shopping expedition will go swimmingly with this Marine life themed 3Bagz. Medley of blues and navies make this a popular choice for all seasons.
Mini Dot Turq-Choc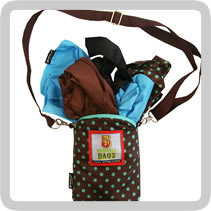 Unusual combination of turquoise and chocolate creates a bag which will appeal to ladies of any age. Suits the quite type looking for a touch of flamboyance.
Mod Disks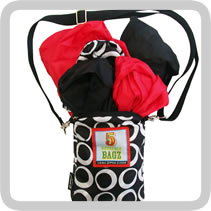 A bag with a contemporary look. Eye-catching and cheerful, the inner red bag contributes to its air of gaiety.
Related Products