Solar Window Light (3 LED Touch Light)
This solar powered window light from Powerplus is also known as the spider.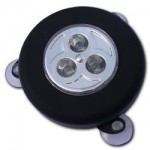 Designed by Powerplus, the spider is a 3 LED touch light which is easily mounted on a window or indeed any smooth surface through integrated suction cups.
Solar cells on the window light charge the internal battery so just point the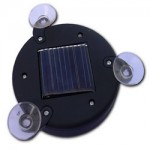 Spider to daylight by sticking it to the glass through the attached suction cups.
To switch on simply press the centre light panel.
Easy and compact lighting which never require replacement batteries or bulbs.
Ideal for home use or in cars, boats, camper vans or caravans.
Video on Solar Window Light
Specifications of Solar Window Light
| | | |
| --- | --- | --- |
| Item | Parameter | Unit |
| 3 LED | 13,000 | MCD |
| Battery Ni-MH | 3.640 | VoltmAh |
| LED Lifetime | 10,000 | Hours |
| Material | ABSRubber coated | |
| Diameter (excl. Suction cups) | 7 | cm |
Related Products