Solar Address Number Lighting System
Normal Price €14.95 
Now Only €4.95
Light up your home and help create a safer community with this solar home number product. Help the emergency services, delivery personnel and taxi-drivers quickly identify your location.
Why Use a Solar Address Number Lighting System?
Easy to install and maintenance free.
Energy saving and Eco-friendly (no mains connection)
Visible from roadside after dark.
Address Number System Specs and Contents
Dimensions 19cm x 18cm x 5cm (Depth)
 4 Super birght white LED bulbs
On/ Off Button
2V 40mA multi crystal solar panel
Material stainless steel and PP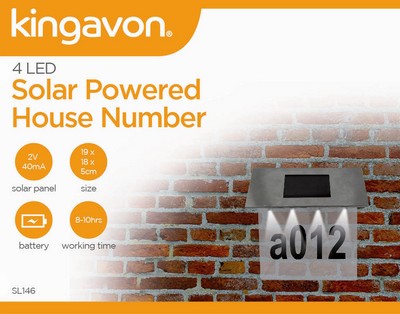 Displays up to 4 digits
Contains 3 Sets of numbers (0-9)
Contains 1 Set of letters (A-F)
Works for 8-10 hours after dark after a full 10 hour charge.
Supplied with 1 X AA 600mAh NiMH rechargeable.
All required fittings included
3 sets of numbers 0-9
Spacers to centralise 1 and 2 number addresses
How to Assemble Solar Powered House Number Light
The solar panel must be set in a location that receives full direct sunlight for a minimum of 8 hours per day.
Ideally the sola panel should be angled south facing.
When installing on wall make sure area is clear of obstacles such as cable and electrical lines.
Drill 2 holes in appropriate position and insert wall plugs in holes.
Secure in place.
When installed leave switched to off position for 3 to 4 days before using device for the first time. This is to ensure battery is fully charged the first time it is used.
Related Products