Solar Chinese Hanging Lanterns
These Solar Hanging Chinese Lantern Lights are an excellent way to decorate outdoor spaces for any occasion.
During the day the sun charges the strong lights internal battery which powers the lights automatically after dark.
Made by Ranex and known as the Fiesta the set has 10 LED bulbs. The total length of the string is 5 meters and their is a 2 meter gap between the solar panel and the first light.
Daylight charges the included AA battery which is at the back of the solar panel and powers the lights.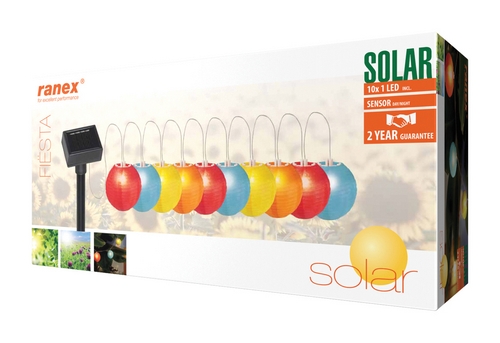 What comes in the Solar Chinese Lanterns Pack?
1 x 5 Meter String of 10 LED bulbs
10 Chinese Lantern to fit over LED  bulbs
1 x Solar Panel
1 x Spike
1 x Spike Extension
1 x Wall / Deck bracket
2 x Screws
2 x Rawl Plugs
1 x Instructions
Related Products