Hydro Sacks - Protect your home from flooding
The hydrosack weighs 10 times less (about 1kg) than a standard sandbag before contact with water and can be easily stored away in the hope that they are never needed.
The hydrosack comes as a unique 3-section structure unit which allows for a controlled spread which prevents the contents from moving from side to side. A highly effective barrier for protecting both household and commercial properties against the threat of flood water the hydrosack also boosts many advantages over the traditional sandbag.
When fully inflated the 1 Floodsack expands to approximately 55cm x 45cm x 12cm (Height). A pack of 2 will extend to 1.1m and give your doorwell a 4.5 Inch Height protection)  Pack 2 on top of 2 with the 4 pack for a 9 Inch height protection.
How the Hydrosacks work in flood prevention?
1: Fit in place outside your doorwell and soak with water until fully inflated.
2:The floodsack absorbs up to 20 litres of water before it crystalises. At this point the floodsack will retain water and act as a barrier against flood water
3: The floodsack is very supple and fits  snugly into openings and doorwells ensuring a strong resistance against flooding.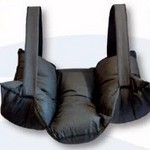 4: When flooding subsides remove Floodsack from position using the handles which come as part of the unit.
5: Use a knife or blade to slit a hole right through the floodsack and empty contents into the soil in your garden.
Advantages of hydrosack over Sandbags
1: Sandbags are difficult to store taking up substantial warehousing space for unknown periods in anticipation of an emergency. The floodsack is a compact unit weighing less than 1kg.
2: Sandbags are difficult to dispose of after use and excessive costs are incurred by trucking them away after use.
3: Sandbags are not environmentally friendly and contents can not be emptied to your garden after use.
4: Sandbags are capable of carrying infectious diseases emanating from sewage polluted water. When fully inflated the Floodsack resists but doesn't retain floodwater meaning the contents can be easily disposed of without health risks after use. The Floodsack only contains pulp and super absorbent polymer both of which are harmless to the environment.
5: The handles on the hydrosacks make them easy to carry.
Click Here to View Review of the Hydrosack in the Sunday Times Home Supplement
Related Products