EasiFlow Painter Kit
The EasiFlow Painter from Ventus is the most convenient and economical painting system on the market and a complete all in 1 solution for all your painting needs.
A lightweight container and hand powered pump which can take 0.9Litres of paint is attaches to a belt clip and provides you with a mobile continuous paint-feed to your desired attachment meaning no more visits to the paint tray.
No paint dripping, no paint splashing and no messy paint trail!
Features and Benefits of the Easiflow Painter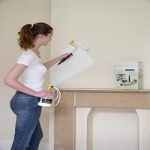 Container can take 0.9L of paint allowing you to paint several walls non-stop.
Less wastage than conventional painting methods
No batteries or external power required
Quick change supply tube enables fast and simple inter-change of all attachments.
Paint carried conveniently on simple belt clip and therefore this system does not store paint in the handle or head. As a result painting feels no different (or heavier then a normal roller / brush /pad)
System keeps paint sealed until it reaches the attachment reducing the potential for mess and reducing the paint and water wastage associated with trays and frequent clean-ups.
Attachments can be rinsed and reused many times. If you require spare parts please call us on 01 8428187. These will be added to the store in the coming weeks.
Packaging made from recycled materials.
What Comes in the Easi Flow Painter Kit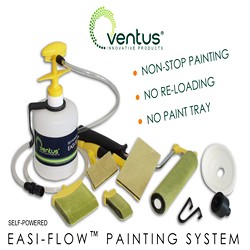 1: Easi-Flow Pump and container unit
2: 7 Inch paint roller assembly
3: Comfort Grip Accessory Handle
4: Large Paint Pad
5: Small Paint Pad
6: Large Corner Brush
 7: Small Corner Brush
  8: Funnel Cup,
   9: Tap Adaptor
   10: Cleaning clip
Winner of the Best Product for Retailer Choice Las Vegas 2011
CE Certified Product
Related Products