Stayhold Car Boot Objects Support
A clever new Irish designed product which prevents goods getting damaged in your boot and spillages within your car by holding your objects securely in place.
The Stayhold grips onto the carpet in your car boot or vehicle and holds items securely against the side walls.
Perfect for holding bags, cases and bottles in place the Stayhold is also ideal for ensuring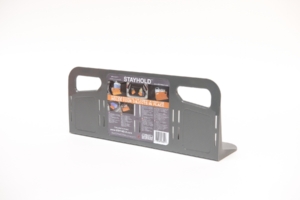 plant pots don't capsize and get damaged whilst in transit and ensuring paint tins don't spill over and destroy your vehicle.
The Stayhold can be easily repositioned at any time within the vehicle. Simply lift one of the handles to remove.
View Stayhold Demo Video
Stayhold Car Boot Object Support Features and Benefits  
- Available in grey or orange colours
- Each stayhold measures 460mm length x 190mm height x 140mm width
- Made from a strengthened super tough plastic each unit can hold up to 150kg in position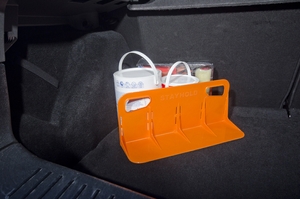 - Grippy Velcro strips on base of Stayhold grips firmly to your carpet.
- Position as a divider anywhere in your boot to hold loose items.
- Use a few Stayholds to create compartments for your stuff.
- Use with groceries, wine bottles, paint tins, bottles, luggage and any other loose object.
- Experience peace of mind when traveling with goods in your trunk.
- Broken eggs or spilled milk smell really bad in your car, use a Stayhold to prevent the need to use strong chemcial cleaning agents to remove this odour.
Related Products