Tattersalls Christmas Market & Lapland Experience
As the big day of December 25th approaches the Tattersalls Lapland Experience in Ratoath, Co Meath is a great place to help get the young ones in the mood for the festive season.
At Tattersalls you can take the interactive walk through everything that you love about Christmas and get to meet Santa and the elves before they deliver their presents around the world.
As you enter the grounds of the house from the visitor car park you will most likely meet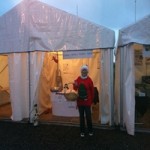 Bernie blasting out the Christmas tunes and collecting for Crumlin's Childrens Hospital. Bernie's husband Brian wrote a lovely Christmas song "I believe in Christmas Once a Year"   and it was recorded with the help of the Castleknock Community College Choir. Pick up your CD at the stall for just 3 Euro and support a very worthy cause. If you can't make it to Tattersalls you can download it here on Amazon
Pick up all your practical Christmas gifts from Purchase.ie from energy saving gadgets to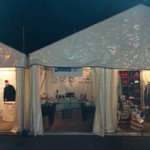 eco educational toys and Solar Christmas Lights. We will be giving away a free gift to the first person that mentions this blog post everyday so drop by for a chat!
At the far end of the market pick up some wonderful homemade cakes and treats from Mr
Muffin Man or indulge in one of Jurgens great Bratwursts
If good coffee is your thing or you are in need of a pick me up Gerry at Coffee Breaks will provide you with a wide range of hot drinks.
The kids are sure to drag you to one of the worlds longest ever sweet stalls beside Coffee Breaks and don't forget to get your photo taken with the Reindeer and drop by and say hi to the Shetland pony ("Buttons"), the kiddie goats, sheep and the donkey.
The Tattersalls Christmas Market and Lapland Experience runs everyday up to and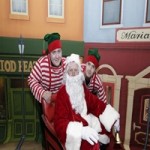 including Dec 23rd. For More information go  to www.tattersalls.ie/laplandexperience/
Open until 9pm every night.