Radiator Reflector Panels – Do They Work?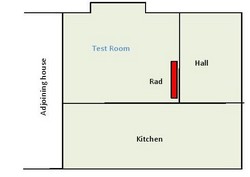 The benefits of using the Rad Booster radiator reflector panels were recently put to the test by Cork based Building Energy Ratings (BER) Assessor Simon Scanlon.
This product is currently in redesign but you might want to consider the option of Magnetic Radiator Reflective Foil
The test was carried out in a 3 bedroom house built during the Mid-19 90s to standards of the time.
Day 1 of the test involved fitting a Rad Booster to the back of a radiator and taking a temperature reading from the centre of the room every 5 minutes.
Day 2 involved the same process without the Rad Booster fitted to the back of the radiators.
The tests concluded that with the Rad Booster panels fitted there is a significant improvement in the time required to make the rooms reach a comfortable temperature.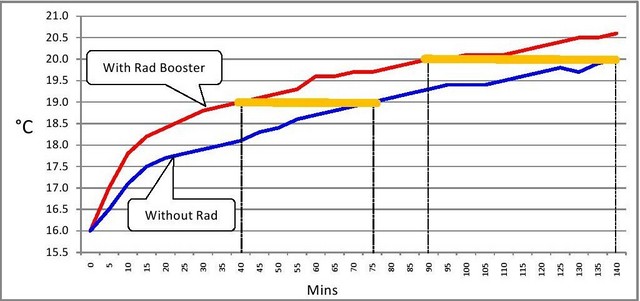 Without the Rad Booster panels it took the room 75 minutes to reach 19°C and a whole 140 minutes to reach 20°C. With the Rad Booster Panels fitted it took just 40 minutes to reach 19 °C (a 46% improvement) and 90 minutes to reach 20°C (a 35% improvement).
Building Energy Ratings are based on the assumption that a typical property is heated for 2 hours every morning and 2 hours every evening during the winter months. Using this assumption it is obvious that significant savings can be achieved by fitting the Rad Booster radiator reflector panels.
Its worth noting that this test was carried out on a radiator fitted to an internal wall. If anything the results on rad boosters fitted to an external wall (wall under a window) are likely to produce even more impressive results.