Wireless Light Switch
Transform your house to a wireless home with these great new wireless light switches powered by kinetic energy.
Designed by Ener J these switches require no wiring, no batteries and are easy to install and use.
The switches communicate with the relay receiver connected into your light fitting. It switches and functions exactly like a mains wired switch but naturally without the need for power or cables at the switched end.
Advantages of the Wireless Light Switch 
1: No wires, no drills and no mess. Comes with a sticky pack so it is just stuck onto the wall surface as required.
2: Energy saving (No power supply required) - no need for batteries or power chords.
3: Save money - Reduce manual labour and decrease electrician costs and speed up lighting installation process.
4: Safety - Completely water proof so perfect for bathroom installation. As the switch is volt free you don't have to worry about voltage regulations.
See Review and Installation Video of Wireless Light Switch
How the Wireless Light Switch Works
The switch has a built in micro energy generator. When the switch is pressed the kinetic system transforms the movement into energy. This transmits a signal to the receiver to turn the light on or off completely eliminating the need to get a messy wiring job done.
You will no longer need to install back boxes, make holes or channel out for switch lines in the wall if you use these get new innovative switches.
They can be installed on any surface glass, marble, ceramic tiles or any other smooth surface.
This wireless light switch has a range of up to 30 meters indoors from the point where the transmitter is located  and up to 160 meters outdoors.
How the wireless Kinetic Controller Works
This wireless controller with a high efficiency switching power supply has a wide voltage range with excellent stability and durability.
It is equipped with an in rush current suppression function thus creating a safe and durable product. In order to prevent accidental short-circuit the controller is designed with a replaceable fuse. Even if a short circuit occurs the fuse will immediately protect the controller from damage.

The switch and wireless receiving controller can be paired with any combination. A controller can be controlled by a maximum of 10 separate switches, a switch can pair with an unlimited number of controllers.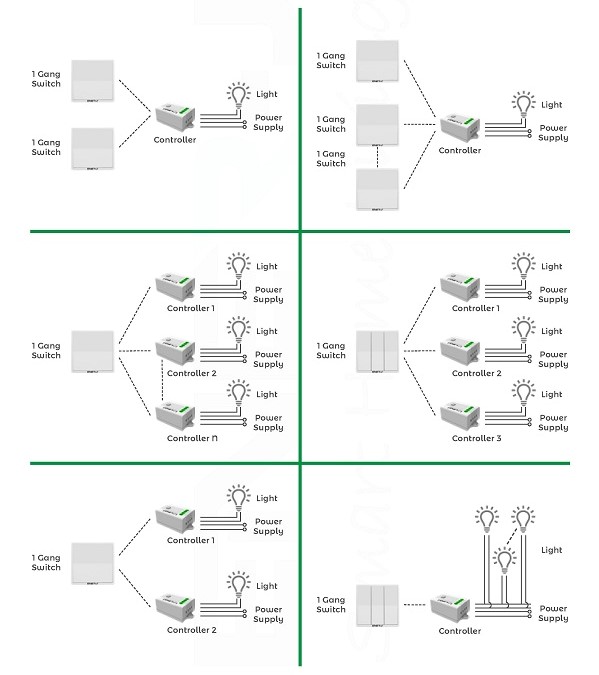 What receiver will I need?
Each receiver goes in 1 circuit. If the total load of 1 circuit is less that 500W all you need is the 5a receiver.
If the load speed is greater that 500W and less than 1000W you need the 10a receiver.
You can use a maximum of three switches working off the one receiver.
Wireless Switch Specifications 
Work Type - 86 size rocker type
Power Source - Micro Energy Acquisition and self-powered
Communication Model - FSK
Work Frequency - 433MHz
Keys: 1-3
Life Time: 200,000 times on/off
Outline Dimensions: L86mm x W86mm x H14.5mm
Weight: 85g to 110g
Control Distance: 160m (outdoor); 30m (indoor)
Control Method: Pairing with Wireless Controller
Wireless Controller Specifications 
Two models: 5a (LED 500W) and  10a (LED 1000W)
Power Supply type - AC85V - 260V, 50/60Hz
Voltage Range: 85V - 260V
Sensitivity: -116dB
Control Load 5A Model - Max Lpoad for LED Lighting 500W & 2200W for other loads
Control Load 10A Model - Max Load for LED Lighting 1000w AND 2200w for other loads.
Outer Shell Material: DOW PC (fire) V-O
Weight: 25g
Life Time: 150,000 times on/off
Work Environment Temperature: -30 degrees to 50 degrees celcius
Control Distance 160 meters (outdoor, 30 meter (indoor)
CE Certificate CELVD:SGSLVD GZES 1407007368LM
Control Method: Pairing with Wireless Switch
Related Products