Silent Wool Sound Proofing
A premium range of products made from 100% Natural sheepwool which act to soudproof floors.
Silentwool comes in three different varities for floors, carpet and joist insulation. Each product is easy to cut and protects against mould, mildew and insects through a patented technology.
Silentwool Floor
This comes as a 25 meter roll which is 1 meter wide and 4mm in depth (about 2mm when compressed).
It cushions the impact between the solid subfloor and the finished surface floor (i.e solid timber floors, laminate floors, parquet floors and OSB/MDF boards) that sits on top.
The layer of wool removes the contact between the two hard surfaces absorbing any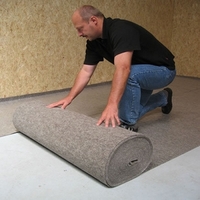 vibration, which helps to soundproof the floor.
According to tests the Silent wool floor product installed will lead to 21 decibels reduction in impact sound level (Test: ISO 140-8 Delta Lw).
At the bottom of Silentwool floor there is a layer of breathable paper. This acts as a protective moisture barrier.
The insulation is easy to cut, durable and extremely long lasting, making it a fantastic way to soundproof your floors.
Silentwool Carpet
This comes on a 20 meter roll which is 1 meter wide and 7mm in depth (about 4mm compressed)
It is designed to be used as an underlay to sit between the carpet and the floorboards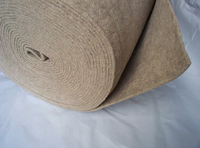 underneath leading to a significant reduction in sound transfer.
The silentwool carpet is particularly useful for older homes with big gaps between floorboard which leads to cold draught problems.
Silentwool Joists
Designed to reduce structure borne sound transmission caused by contact between joists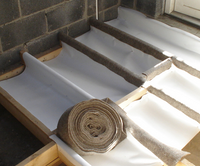 and the floor sitting on top of the.
It comes on a 2.5 meter roll which is 10cm wide and 4mm in depth and is designed to be rolled out along the lengths of the joists prior to the floorboards being laid down and then held in place by stapling it into the side of the joists.
Do not use nails as it will lose its acoustic properties
Related Products