Supermarket Trolley Bags
Trolley Bags initially came to our attention when they featured on the RTE Irish version of Dragons Den a couple of years ago and we are delighted to now add them to our product range.
What Trolley Bags essentially are is four hard wearing colour coded reusable shopping bags tailored to fit neatly within shopping trolleys.
There is two variations of trolley bags available
1: The Original size which are designed to fit larger deep trolleys and are ideal when doing a large weekly shop.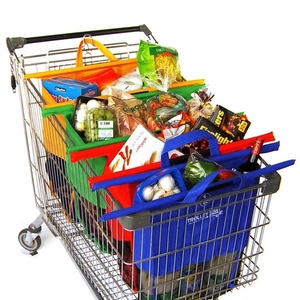 2: The Express size designed to fit neatly within shallow shopping trolleys and are ideal for customers who do smaller food shops
Check out the trolley bag accessories which we have alone recently added to our range.
How Trolley Bags Work
Trolley Bags are designed to spread out and rest on your supermarket trolleys, giving you a series of open and upright bags into which you can pack and sort your shopping with both hands.
Each durable bag holds will hold up to 15kg in weight and are designed to make your shopping trip easier and more convenient
Each bag is a different colour so you could potential use green for veg, blue for frozen goods and so on if you wish.
The simple system can reduce your supermarket packing time in half as it takes away all the hassle of packing whilst holding bags open.
It is advised to use the largest bag in your four bag packs for packing the lightest items in your shopping basket this will mean that the carry weight of all four bags is more evenly spread when removing from trolley.
Using Trolley Bags Four Simply Steps
Watch Trolley Bags Demonstration Video
Related Products