Efergy Pro Solar Monitor
Replaced by Eco Eye Smart PV Go here
The all new Efergy Pro will tell you how much energy your solar panels are generating and enables users to see exactly their net energy position with real-time information on your solar generation and electricity consumption.
The Efergy Pro puts users in control of their home energy usage, the user can monitor and understand usage patterns and make informed decisions on appliance usage to maximize their energy saving.
Download the Efergy Pro App at...

See Efergy Pro Demonstration Video
See how much energy you are generating, using and exporting in realtime. You can also view a summary of data for the day, week and month.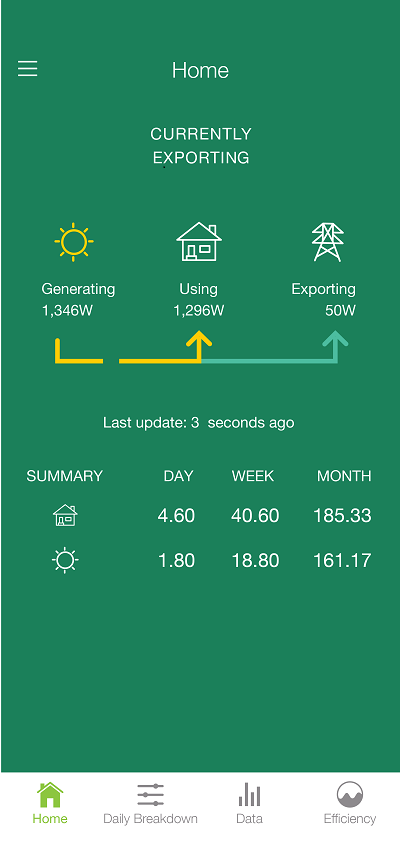 Insights about your energy use and minute-level monitoring are key to providing a comprehensive view of the electricity used within a set period of time.
The energy history data chart makes it easy to find waste and track changes in generation, consumption and performance.
The electricity consumption usage accurately compares the energy you've generated and imported. You can also see how much you've consumed and exported.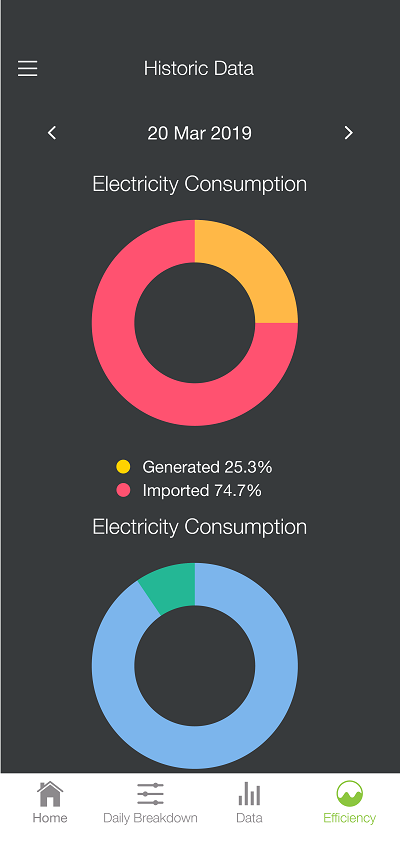 Installing the Efergy Pro
Simply attach the sensors onto the mains incoming cable for consumption and around the live line coming from the grid-tie inverter for generation. Plug the sensors in the transmitter which wirelessly sends real-time usage data to the gateway. Power on the gateway and connect it to your Wi-Fi network. The Gateway then sends real-time and historical energy use to the app.
See demonstration video below.
Efergy Pro Specifications
Efergy Pro Gateway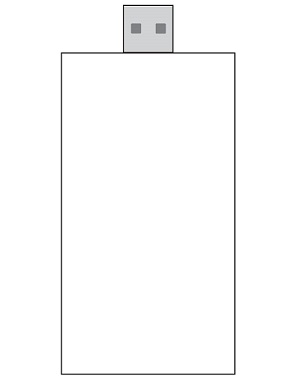 KEY MEASUREMENTS
Real time electricity and solar monitoring
Daily Breakdown: Insights about your solar generation and minute-level readings graph
Historic data: minute, daily, weekly and monthly data (consumed, imported, generated and exported)
Efficiency: Compare the energy you've generated and imported. See your renewable energy usage comparing the energy you've consumed and exported
MOBILE APPS
Yes, FREE Android and iOS apps
MONITOR SOLAR
Get insights on your home energy, solar generation, net metering and more
CURRENCIES
€, €, £, R, Kr, ₹ and more
STORAGE CAPACITY
Unlimited, cloud based memory
MONITOR  Individual Sockets
DEVICE SPECS
Portable display: On mobile apps
Size: 80x40x14mm
Weight: 32g
USB: Power only connecter (male)
LED: Power, OT radio and Cloud
Reset: Pin hole reset button
Operating temperature: 0C – 35C
Input: 5V DC via USB to computer or power adapter
Internal voltage: 3.3V
Peak current: 95mA
Average power: 0.2 watts
Frequency: 433/868/915MHz radio
Radio ouput: +20 dBm maximum
Wi-Fi: 2.4GHz 802.11b/g/n
Radio output: +20dBm maximum
Security protocol: WPA/WPA2 station mode
Efergy Pro Transmitter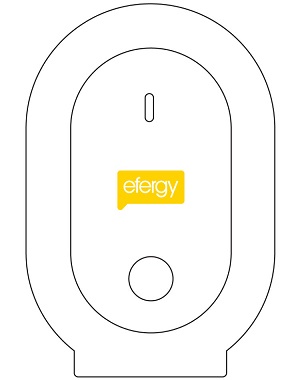 Real-time energy monitoring
Wirelessly sends the information every 10 seconds
Easy and quick to install
Range of transmission of up to 70m in open area
COMPATIBILITY
Compatible with Efergy Pro and Open Things
TRANSMITTER SPECS
Compatible with Efergy Pro and Open Things
Dimensions: 64x95x28mm
Weight: 95g
Power: 3 x AA alkaline batteries
Transmission Time: 10 seconds
Wireless range: Up to 70m (open area)
Frequency: 433MHz
Efergy Pro Mini Sensor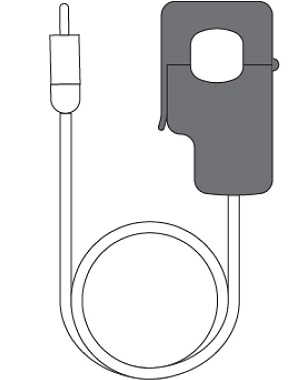 Clip around the cable to monitor the current that runs through it
Ideal for residential properties
Easy and quick to install
COMPATIBILITY
Compatible with Efergy Pro and Open Things
MINI SENSOR SPECS
Measuring current: 50mA-90A/phase
CATII Max. 600V
Inside Diameter: 12mm
Body dimensions: 33x57x20mm
Cable length: 60cm