Efergy Engage Hub Kit
Go here Replaced by Eco Eye Smart PC
The engage hub from Efergy allows you to track your energy consumption from anywhere in the world using the mobile Android and IOS apps.
It will allow you to collect data and analyse it so you can change behaviour patterns and save on your energy bill moving forward.
See Engage Hub Kit Video
REAL-TIME
Access your energy data anytime, from anywhere.
BUDGET
Set a target consumption for the month and monitor your progress.
COST SO FAR
See how much you have spent so far today, this week, this month or from a date of your choice.
ENERGY DEMAND
See when and how you consumed electricity and exactly how much power it demanded from the grid.
HISTORY USAGE
Check the amount of energy consumed per day, week, month or year
DOWNLOAD REPORTS
Download your energy data into an Excel sheet.
MULTI-CIRCUIT & SOLAR
Monitor up to 5 circuits separately or solar installations (Need STXtra). ldl lslsls
FREE APPS
See your energy data on our FREE platform Android/iOS apps.

Installing Efergy Engage Kit Video Demonstration
Engage Hub Specifications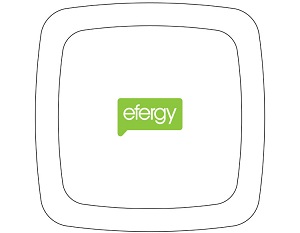 KEY MEASUREMENTS
Real-time Energy in kW
Budget: see target, cost so far and estimated on a graph
Cost so Far: today, per month and since a date of your choice
Energy Demand: Track your electricity use and see how much power it demanded from the grid
History Usage: daily, weekly and monthly data (cost, kWh and kgCO2)
See the weather on a widget
MANAGEMENT SOFTWARE
Engage Online Energy Monitoring app for Web, Android and iOS
MOBILE APPS
Yes, FREE Android and iOS apps
MONITOR SOLAR
Measures individual power. Attach the sensor around the solar feed-in cable to measure individual power
MONITOR INDIVIDUALCIRCUITS
Yes, view up to 5 power circuits simultaneously (with Sub-metering Kits STXtra)
DOWNLOAD REPORTS
Yes, monthly data in CSV files
THREE-PHASE
Three-phase compatible with extra sensors
CURRENCIES
$, €, £, R, Kr, ₹ and more
STORAGE CAPACITY
Unlimited, cloud based memory
DEVICE SPECS
Portable display: On mobile apps
Size: 80x85x25mm
Weight: 61g
USB Port: No
Ethernet Port: LAN/Ethernet
Wireless frequency: 433.5MHz
Measurement range: 50mA-120A/phase
Voltage range: 110-300V AC
Power: AC/DC adaptor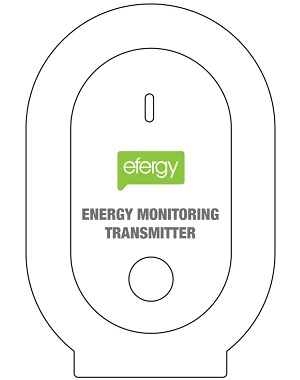 Efergy Transmitter Features
Real-time energy monitoring
Wirelessly sends the information every 10 seconds
Add it on your Engage system to monitor up to 5 circuits
Easy and quick to install
Range of transmission of up to 70m in open area
COMPATIBILITY
Compatible with existing Efergy Elite, E2 and Engage energy monitors (not the TPM model)
DEVICE SPECS
Model: Efergy Transmitter
Dimensions: 64x95x28mm
Weight: 140g (with batteries)
Power supply: 3 x AA batteries (not included)
Frequency: 433.5MHz
Transmitter Range: up to 70m in open area
Ports for sensors: 3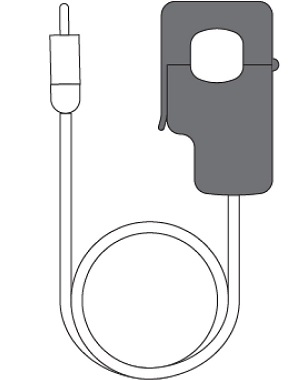 Efergy Sensor Features
Clip around the cable to monitor the current that runs through it
Add it on your Engage system to monitor up to 5 circuits
Add sensors to monitor three-phased power supply
Ideal for residential properties
Easy and quick to install
COMPATIBILITY
Compatible with existing Efergy Elite, E2 and Engage energy monitors
DEVICE SPECS
Model: MIN-SR
Dimensions: 31x57x21mm
Weight: 60g
Internal diameter: Max. 12mm
Nominal: 90A Max. 120A
Voltage Range: 110V-300V CAT II 600V

Efergy Large Sensor Features
Clip around the cable to monitor the current that runs through it
Add it on your Engage system to monitor up to 5 circuits
Add sensors to monitor three-phased power supply
Ideal for residential properties
Easy and quick to install
COMPATIBILITY
Compatible with existing Efergy Elite, E2 and Engage energy monitors
DEVICE SPECS
Model: XL-SR
Dimensions: 38x51x38mm
Weight: 60g
Internal diameter: Max. 19mm
Nominal: 120A Max. 200A
Voltage Range: 110V-300V
CAT II 600V