Solar Powered Ankle Light
This Ankle Light known as the Anklelite is a unique lighting system which is ideal for keeping cyclists, runners, horse riders and school children safe after dark or walking to and from school.
This unique solar powered lighting system can also be used as an arm light.
The Anklelite comes with adjustable straps  designed to fits all sizes.
It can be worn directly on your leg, over trousers and will even fit securely over riding boots.
Being solar powered no batteries are required to run the Ankle Light and it provides super-bright 360 degree lighting.
Watch Ankle Light Product Video
How the Solar Ankle Light Works
The Anklelite is ideal for charging at school or in the office as it charges both in direct sunlight and in artificial light. You can also easily charge it at home by placing it on the windowsill for a few hours. It provides over three hours of super-bright light from a full charge
A large floodlight module is attached to straps. This fits comfortably around the ankle and includes high visibility reflective strips on both sides as an additional feature.
From every angle the lights will shine brightly after dark from every so cyclists, sports people and children wearing Anklelite will be seen clearly by motorists any time day or night.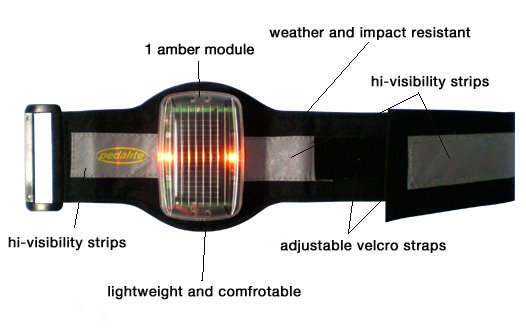 The lights can be turned on and off and set to different modes – flashing, constant or off.
The constant mode is advised for horse riders so as not to startle the horses with the flashing mode.
The versatility of the Anklelite means that it can also be used as an arm light by being attached to either your lower or upper arm.
The compact design of the Anklelite means that it is small enough to roll up and put you your coat pocket.
Features and Benefits of the Anklelite
Lightweight (85g) and weather and impact resistant.
Simple to put on and comfortable to wear.
Powered by stored natural and artificial light energy. Maintenance free and no replacement batteries required.
Can be worn by cyclists, horse riders, children and other sports people.
ƒ Can also be used as an arm light, on the upper or lower arm ƒ Fits all ankle sizes with or without trousers and over boots.
Related Products