Water Saving Kit
The Water Saving kit is guaranteed to reduce the amount of water you use on the targeted devices by up to 70% depending on the current flow rate of your water.
We have now introduced four different types of water saving kit packs to suit all budgets and water conservation needs. Choose between the gold, silver, bronze or water saving starter kit.
Gold Water Saving Kit 
(Click on individual links for more information on each product)
1 Water Butt Kit (2oo Litre) - Collect Rainwater from downpipes of home and use for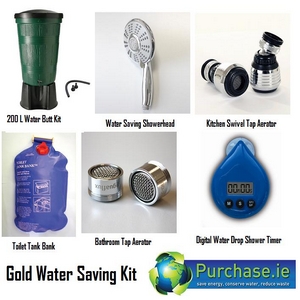 gardening. Includes stand, tap, childproof lid and downpipe divertor kit.
1 Water Saving Shower Head - Reduce water used when showering by 40% without compromising water presure
1 Kitchen Swivel Tap Aerator - Rotating tap fitting which reduces water flow to just 7.6 litres per minute without affecting the water pressure. Standard fitting and female adapter included.
1 Bathroom Tap Aerator - Reduces water flow to just 4.5 litres per minute without a change in water pressure. Helps stop water splashing and not susceptible to build up of limescale.
1 Water Drop Digital Shower Timer - Be more aware of how long you are spending in the shower and set alarm to get you out!
1 Toilet Tank Bank - Simply fill with water and hang inside toilet cistern and save two litres of water everytime you flush.
All for €99.95 (Normal Price €116.70)
Silver Water Saving Kit
1 Outdoor Tap Lock Fits on the spout of almost any outdoor tap and protects your water
supply against theft, vandalism or unauthorised use. Requires no padlock which tend to seize when subjected to outdoor environment.
1 Water Drop Digital Shower Timer
All for €74.95 (Normal Price €85.70)
Bronze Water Saving Pack
1 Water Saving Shower Head 
1 Water Drop Digital Shower Timer
All for €49.95 (Normal Price €56.75)
Water Saving Starter Kit
1 Shower flow restrictor - Place between the faucet and shower head hose. Will save
between 40 and 60% on current water flow rate of your shower.
1 Shower Coach 5 Minute Shower Timer - Egg timer style shower timer. Be sure to get out when the 5 minutes are up!
All for €29.95 (Normal Price €36.75)
Articles worth reading regarding water charges
The real cost of water charges. A detailed breakdown on what households are really likely to pay
How to reduce your water charges by 500 Euro per annum
What Purchase.ie Customers are saying about water saving kits
Water saving kit is a no brainer. Tap units work great giving you better water pressure using less water. Proves you can go "green" without losing your comforts.
M Clancy, Kinsale, Co Cork
Related Products