Autosave Flushing Control
The Autosave B02 flushing control saves water by flushing urinals only after use. A built-in infrared PIR sensor detects persons in the toilet area and initiates a cistern fill and flush cycle a preset time later.
Commercial businesses in Ireland are currently wasting thousands of litres of water every week and its costing them on water metering charges.
The Autosave flushing control has a simple push button setup procedure that sets the cistern fill time and a programmable switch enables the installer to choose the flushing frequency and also to set a hygiene flush interval for periods when the building is unoccupied.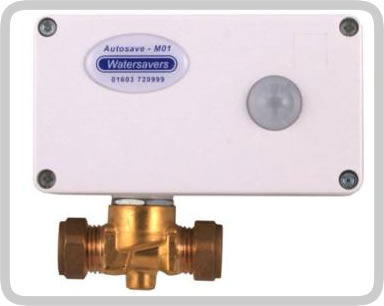 Features and Benefits of Autosave Flushing Control
6 - 12 months typical payback period
Save up to 80% on metered water bills
12 or 24 hour hygiene flush
ECA listed and WRAS approved product
Simple pushbutton setup procedure
Complete with batteries & isolating valve
Technicial Specifications of Autosave Flushing Control
Detection: By built-in passive infrared sensor, range approx. 4m, coverage 100° from perp.
Solenoid valve: brass latching, 15 mm compression fittings, 2mm orifice, pressure range0 -12 Bar
with mesh filter (optional low pressure valve for tank fed installations)
Batteries: 4x Duracell AA cells (supplied) - average life 3 - 4 years, no need to reset when changing
Low Battery Warning: Led flashes to indicate low battery status. Valve closes (fail safe) 2 weeks following initial warning
Cistern fill time: 1 to 34 minutes - set by simple pushbutton routine
Flush Program options: flush delay (time from detection to actual flush) 5 - 35 mins in 5 min increments, hygiene flush 12 or 24 Hour
Test function: By optional Magi-test wand, provides instant full functional test including valve, infrared PIR sensor operation, battery status, water supply and cistern fill time
Enclosure: size 135 x 75 x 75mm, in white RAL 9010
Related Products