Rechargeable Batteries (AA and AAA Sizes)
These rechargeable batteries from Cole and Bright come in a 4 pack and are suitable for use with both Cole and Bright solar products and solar lights manufactured by other companies.
These high quality Ni-Mh rechargeable batteries come in AA and AAA sizes. They are 1.2V 600mAH.
How to use Rechargeable Batteries
For correct battery installation please follow manufacturers guidelines for lights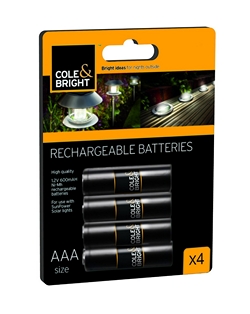 When first installed the batteries may not be charged to full charge capacity. Allowing the batteries to charge and discharge over the course of a week will restore them to full capacity. (ie charge up during the day and discharge at night when the solar lights are on.)
Due to this the length of time the lights will stay on for the first few days will not be as long as it will be during week 2 when the batteries condition.
When using these batteries in solar lights select a location with full direct sunlight away from cover or shade.
If weather conditions are not ideal for daytime charging a battery charger can be used.
Ensure the +/- on  the battery correspond with those on the light when installing.
Store any spare batteries in a cool dry place away from children and animals.
Recharging your batteries every 6 months will prolong the life of the batteries and maintain the running time of your solar lights.
Batteries most be recycled or disposed of properly. Do not dispose of in a fire.
Please note this product can only be sent by courier as the post office no longer allow for batteries to be posted.
Related Products